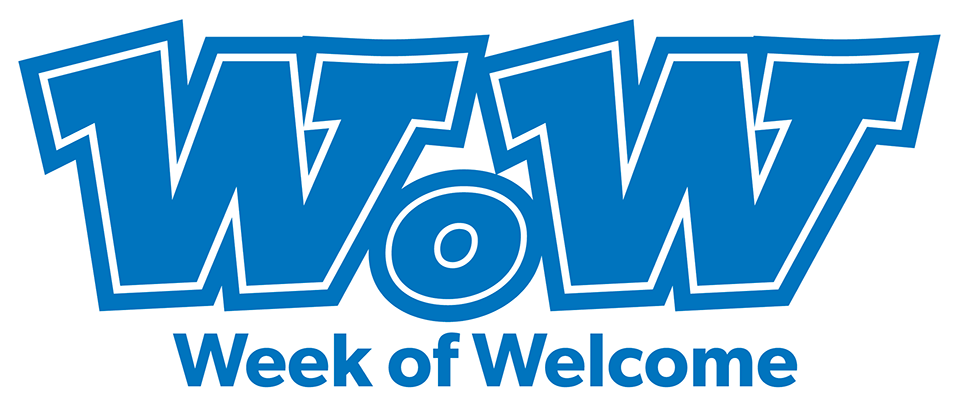 HUNTSVILLE, Ala. (May 8, 2014) – Week of Welcome (WOW) is one of the most beloved traditions at The University of Alabama in Huntsville (UAH). It takes place at the start of each semester and consists of social, educational, and informational programs to welcome new and returning students back to campus.
An integral part of WOW are the WOW Leaders, chosen in advance to fulfill a number of important requirements, including assisting in preparation, welcoming guests, setting the tone, showing school spirit, encouraging participation, and – most important – having fun.
"Week of Welcome Leaders are really vital for the campus, because they set the tone for the rest of the semester during the first week of school," says Erika Drake, a senior and WOW Leader majoring in elementary education. "Their energy and dedication make each event memorable and they make each student feel included."
Drake's fellow WOW Leader Erin Coffey, a freshman chemical engineering major, agrees. "Whether you are an incoming freshman or a returning, transfer, international or non-traditional student, WOW allows everyone to start the year off on the right foot," she says. "And it's our job to make everyone feel at home and welcome them to the UAH family!"
Needless to say, it takes a special kind of person to convey the level of enthusiasm and school spirit required of the position. So each year, the search is on for "energetic and hard-working students who love UAH," says Kacey R. Schaum, Assistant Director for Student Life.
They must also apply and interview, have at least a 2.5 GPA, and be involved on campus in some capacity, among other things. If selected, WOW Leaders receive a small stipend as well as the chance to meet new students, make an impact on campus, and gain and develop leadership skills.
WOW Leader and junior civil engineering major Andy Hall, for one, is looking forward to his August 15 start-date. "I've been given an opportunity to not only help students feel comfortable coming to college," he says, "but also to leave them with an impression of what kind of person they want to be during their time here at UAH."
And who knows? Perhaps one day the kind of person they'll want to be is a WOW Leader themself!
Week of Welcome Leaders 2014-2015
Chase Sweeney
Tullahoma, TN
First-Year
Computer Engineering
Kelley Shaffer
Huntsville, AL
Junior
Communications
Robert Hicks
Bradenton, FL
Sophomore
Aerospace Engineering
Dakota Booth
Buhl, AL
First-Year
Aerospace Engineering
Lauren Eason
Huntsville, AL
First-Year
Political Science
Kelly Marie Steinberg
Huntsville, AL
Junior
Chemistry
Sijia Li
China
First-Year
Chemical Engineering
Hillary Sharpe
Huntsville, AL
Senior
Psychology
Sarah Iftikhar
Cartersville, GA
Sophomore
Electrical Engineering
Kailyn Murphree
Arab, AL
First-Year
Nursing
Bailey Maze
Arab, AL
First-Year
Nursing
Megan Breland
Scottsboro, AL
Junior
Nursing
Andrew Hall
New Market, AL
Junior
Civil Engineering
Erin Coffey
Hillsboro, AL
First-Year
Chemical Engineering
Erika Drake
Madison, AL
Senior
Elementary Education
Taylor Bono
Madison, AL
Junior
Biology/Pre-Med
---
You may also be interested in: