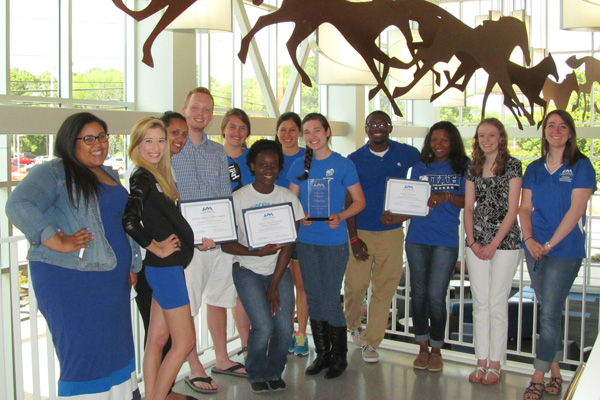 HUNTSVILLE, Ala. (May 7, 2014) - Just named the 2014 Student Organization of the Year, the T.R.U.E. Chargers Student Alumni Association is an integral part of both the student and alumni experience at The University of Alabama in Huntsville (UAH).
"T.R.U.E. Chargers are the student chapter of the UAH Alumni Association, and as such, they are a bridge connecting the two groups," says Rachel Osby, Senior Director of Alumni Relations and Executive Director of the UAH Alumni Association. "The hope is that, as students meet and become engaged with our alumni, they will stay engaged after graduation and help the next generation of Chargers."
The organization is predicated on four pillars of purpose:
T - Tradition, leaving a legacy for those who will follow.
R - Recruit, educate, and involve future alumni leaders.
U - Unify UAH students past and present.
E - Engage and build loyalty among students and alumni.
To enact them, the T.R.U.E. Chargers regularly host networking and social events - like T-Shirt Trade-In, Charger Love Day, and the Student Giving Campaign - that enable students and alumni to form lasting connections. "The biggest key to networking is to do it before you need it, and T.R.U.E. Chargers is providing those opportunities to students," says Osby.
One of those students is Katy Kolasinski. A recent graduate, Kolasinski joined T.R.U.E. Chargers as a freshman in the hopes of meeting other students and alumni. "It was the first organization I joined on campus," she says. And since then? "It has been a constant positive influence throughout my college career."
In fact, Kolasinski just wrapped up a two-year stretch as the group's president, a position she says gave her an opportunity to practice valuable professional skills. "I know that these interactions have helped prepare me not only for business settings, but also for making lifelong connections with people," she says.
Of course, now that Kolasinski is on the cusp of becoming an alumna, she'll fulfill a new role in the organization. And in her place, the T.R.U.E. Chargers' newly elected executive officers, along with help from the organization's dedicated board members, will continue to build on the bridge that Osby says "connects UAH's past and present."
2014-2015 T.R.U.E. Chargers
Laura Burke
President
Psychology
Madison, AL

Brooke Smith
Vice President
Marketing
Fayetteville, TN

Montana Etten-Bohm
Secretary/Treasurer
Earth System Science + Mathematics
Pelham, AL

Andy Woods
Chemistry
Warrior, AL

Omniya Alomainy
Chemistry
Yemen

Elizabeth Villanueva
Electrical Engineering
Huntsville, AL
Brittany Black
Chemical Engineering
Harvest, AL

Unricka Jenkins, Jr.
Communication
Andalusia, AL

Marcus McDowell
Psychology
Huntsville, AL

Asa Taylor
Education
Decatur, AL

Mariah Tolbert
Chemistry
Prattville, AL

Savannah Kincer
Acquisition Management
Fort Payne, AL
---
You may also be interested in: