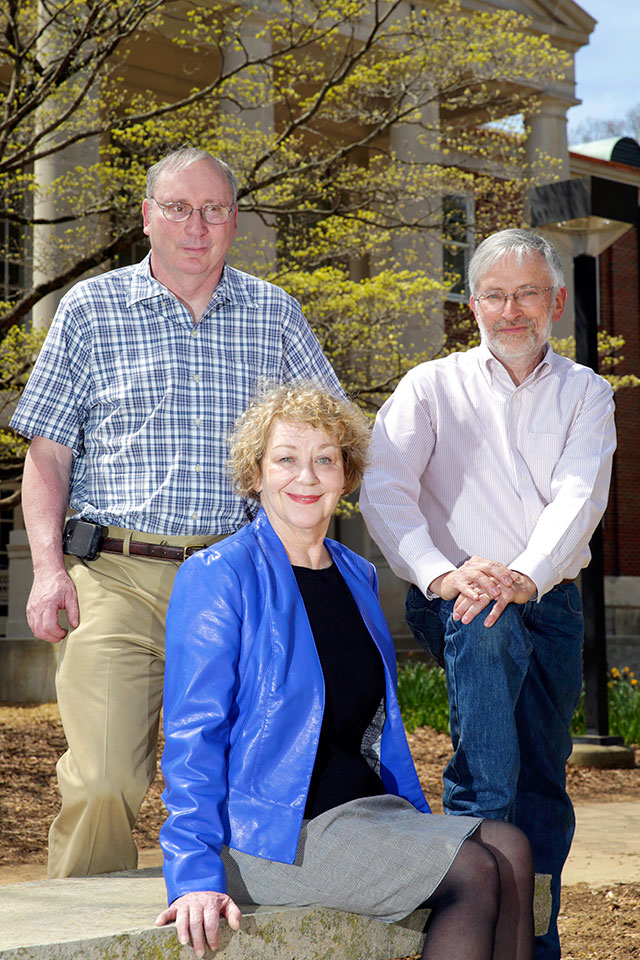 HUNTSVILLE, Ala. (April 24, 2014) – As the newly minted graduates of The University of Alabama in Huntsville (UAH) make their way out into the world this summer, so too will three slightly more seasoned members of the UAH community.
Drs. Daniel Schenker, Julie Early, and David Neff, all professors in the Department of English, are retiring – and with almost 100 years of service between them. "It's a natural progression," says Dr. Neff. "The baton has been passed."
Here the longest of the three, Dr. Neff received an offer from UAH shortly after graduating from the University of Illinois. "It was supposed to be a one-year job but it turned out to be a 35-year job," he says. "And I was going to stay wherever the job was since we'd just had a baby that May!"
Next comes Dr. Schenker, with 30 years. His interview at UAH coincided with a rare snowfall, which he took as "a good omen" since it reminded him of home. "I thought I wouldn't take the job unless it was a place where I could imagine staying a long time," says the Syracuse, NY, native.
And with 24 years, Dr. Early rounds out the total. She came to UAH after "a whole other previous life" raising a family, working as an archivist, and then earning her Ph.D. from the University of Chicago. "I still feel like a tourist of the South," she says, "but a really interested tourist of the South."
Regardless of their length of tenure, however, all three of these erstwhile Yankees say they have no plans to return north once their retirement begins in June. "I'm not going back," says Dr. Early definitively. "I did a visiting year in Michigan and it was a miserable winter. I said, I'm not used to this now. Now the blood is thinner!"
Though in Dr. Schenker's case, it's his wife who has put the brakes on his 'reverse snowbird' idea. "She would have no part of that," he says laughing. "We were up there about four years ago in January and it was 16° and snowing and she said forget it."
One thing they will do? Read more! That may sound surprising given that they are all English professors who have spent the last century combined focused on books. But then none of them have really been able to read for pleasure since they began teaching – which is why each of them already knows what's first on the list.
It's a wonderful career, but after 35 years, I've done it long enough.
Dr. David Neff
Professor
UAH Department of English
Dr. Schenker, who is "used to having to read things as a forced march," intends to tackle Wordsworth's The Prelude. "The main thing is, it's a book that has to be read slowly," he says. "So I'm going to go in my backyard in the morning when I don't have to do anything and just read it."
Dr. Neff, who is excited that "I actually will get to read what I want when I want," plans to take on the Chinese classics, while Dr. Early, who has had to be "a greedy reader" after teaching lengthy Victorian books for so long, hopes to transition to contemporary fiction. "It's fun reading," she says.
They will all also embark on writing projects, with "elements of scholarship that's non-scholarly," says Dr. Early. And Dr. Schenker will be returning to UAH as an undergraduate student this fall to complete his bachelor's degree in Spanish. "I'm two classes away!" he says.
The only question now is are they ready? Fortunately, Dr. Early was able to get a little practice last year. "I was on sabbatical and I used that as a test time of, Ok, let's pretend I'm retired. Can I stand this?" she says. "And I thought, Oh yeah, I really can!"
Dr. Schenker, meanwhile, has family history on his side. "All the men in my family were retired at 53, so I was raised around these men who did other things," he says. "And that's kind of what I keyed in on – the whole idea is, as soon as you didn't have to work, you stopped."
And Dr. Neff? Well, he isn't worried at all. "Everybody I've talked to who has retired from the department has been happy," he says. "It's a wonderful career, but after 35 years, I've done it long enough."
---
You may also be interested in: