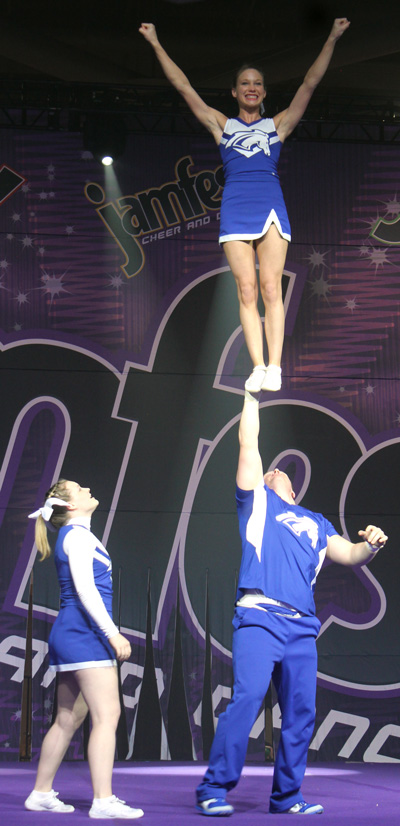 HUNTSVILLE, Ala. (April 15, 2014) - Last month, the Charger Cheerleaders at The University of Alabama in Huntsville (UAH) decided to take their spirit on the road. Their destination? The JAMfest Nationals Series in Mobile, where they won first place in the International Open Co-Ed Cheer and the Open Partner Stunt events.
"I was so proud of the squad and what they were able to accomplish at JAMfest," says Nikki Goode, Director of Student Activities and the squad's advisor. "Most of our cheerleaders have little or no background in cheerleading, so it is amazing to see the development that occurs in each of these students in such a short period of time."
The feat is all the more impressive when you consider that the Charger Cheerleaders aren't a competition team. "We start each season understanding that our purpose is to support athletics and spread Charger spirit across campus," she says. "Competition is a perk, and one that the team has grown to enjoy and appreciate."
It's also one that must be squeezed into a rigorous schedule that includes two-hour practices four days a week, making campus and community appearances, and supporting all 14 of UAH's athletic programs. Not to mention, adds Goode, making the occasional road trip with the UAH basketball team to away games.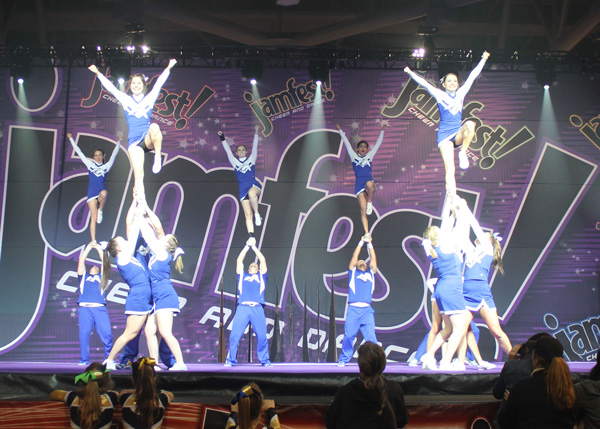 That limits the squad to just a handful of competitions each year, which in the past has comprised Universal Cheerleaders Association, CHEERSPORT, and Cheer Ltd. This year, however, "the team wanted to participate in two smaller competitions," says Goode, "so they chose CHEERSPORT in Atlanta, where they placed third, and JAMfest."
As for their two first place finishes there, Goode says she is not surprised. "Their dedication to the squad and to the university is second to none," she says. "Every year, they want to be better than they were. They challenge one another and have an amazing team bond."
All of which bodes well for the Charger Cheerleaders' next competition, wherever it may be. And in the meantime, it's back to a busy schedule keeping spirits high right here in the Charger Nation.
2013-2014 UAH Charger Cheerleaders
Head Coach: Brad Lovvorn
Assistant Coach: Cassidy Carpenter
Advisor: Nikki Goode
Erica Goodson
Sydney Steele
Madison Campbell
Emily Chandler
Hanly Ward
Melea Mullican
Kristen Bertrand
Liz Buchholz
Larisa Garcia
McKenna Jones
Laura Provenzani
Kyle Hileman
Liam Calvert
Andrew Mills
Joshua Villalobos
Ryan Miller
---
You may also be interested in: