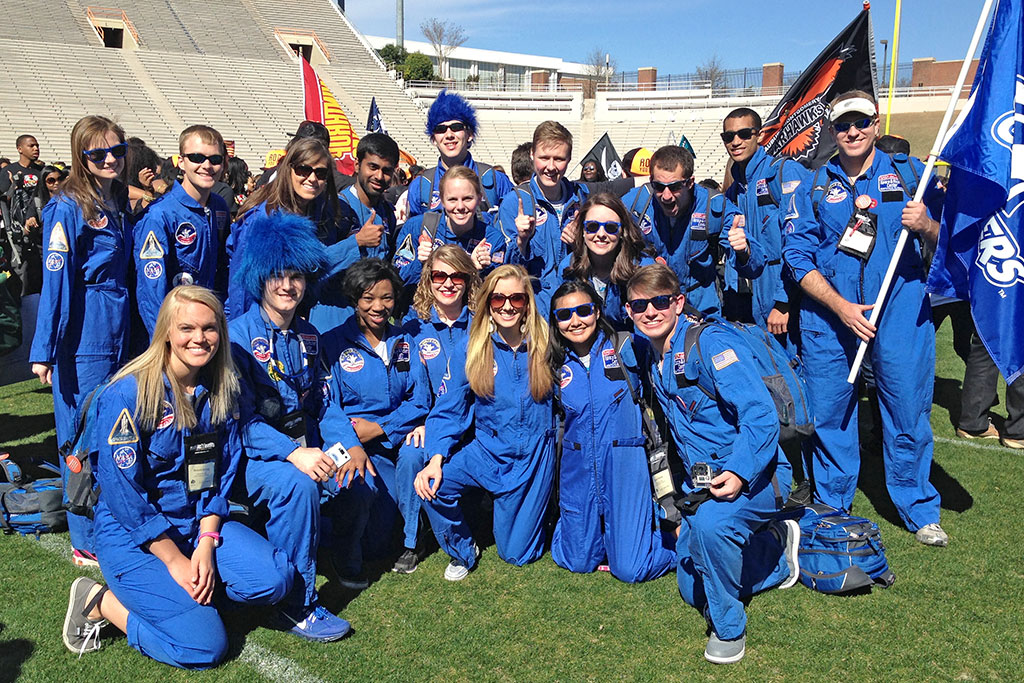 HUNTSVILLE, Ala. (April 10, 2014) – New Student Orientation at The University of Alabama in Huntsville (UAH) is designed to help ease the transition from high school, college, or the workforce to life in the Charger Nation. And helping facilitate that process – and make it both exciting and enjoyable – is the job of UAH's Orientation Leaders (OLs).
"OLs act as sources of support and information for new freshmen and transfer students, and they play a major role in facilitating the adjustment of new students and their families to UAH," says Jenny Russell, who serves as the Assistant Director of New Student Orientation and Family Programs at the university.
They're also highly recognizable by their boundless energy and school spirit – a must when it comes to participating in Orientation traditions like the Orientation Leader Welcome Skit & Dance and teaching new students the UAH fight song. After all, says Russell, "the goal of orientation is to make students and families feel welcome and that they've made a wonderful decision in joining the Charger Nation."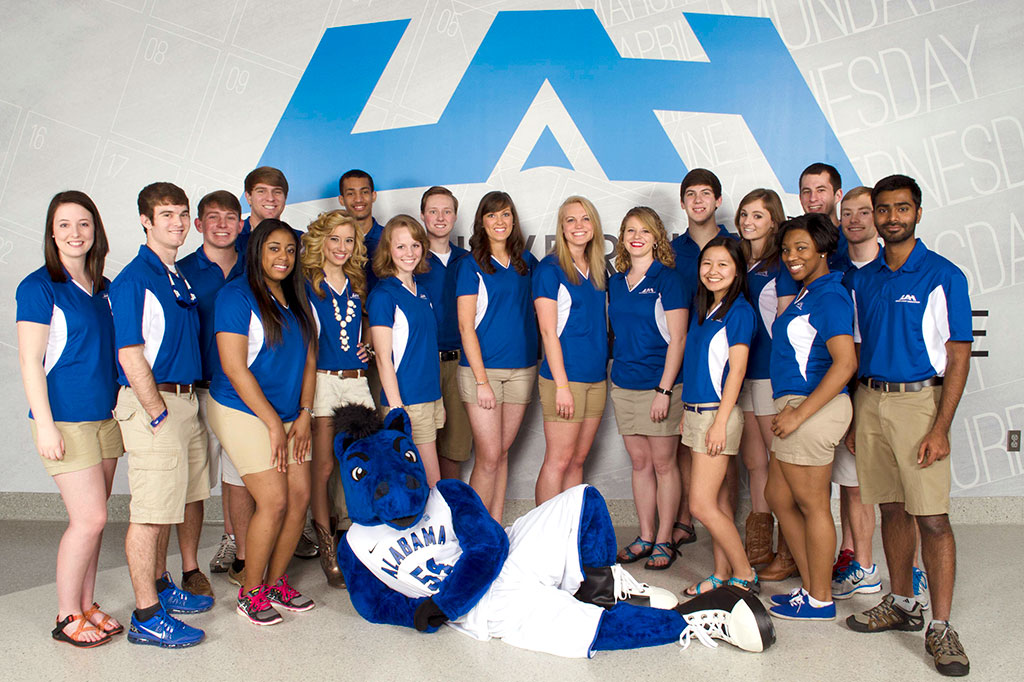 Needless to say, competition for the university's 20 OL positions is strong. "Students must be representative of our campus diversity, be active in student life, and boast a high academic standard," says Russell of the requirements. "They must also complete an application, an individual interview, and a group process to be considered for the position."
Some OLs apply and are accepted for a second or third year, and in doing so, receive additional responsibilities. "Returning OLs help with graphic design projects, developing our social media, and coming up with our traditions and skits, while two OLs each year can return for a third year as Orientation Leader Coordinators," says Russell.
This year's OLs were selected from among close to 100 applicants in October 2013, and will serve for the Summer and Fall 2014 semesters and the Spring 2015 semester.
2014-2015 UAH Orientation Leaders
Morgan Gilley
Orientation Leader Coordinator
Madison, AL
Human Resource Management
Brooke Smith
Orientation Leader Coordinator
Fayetteville, TN
Marketing
Michael Henry
Middletown, OH
Mechanical Engineering
Taylor Reed
Huntsville, AL
Mechanical Engineering
Rachel Gilbert
Madison, AL
Nursing
Blake Muzny
New Hope, AL
Mechanical Engineering
Maya Brown
Mobile, AL
Nursing
Stephen Yarbrough
Springville, AL
Mechanical Engineering
Marcel Hardy
Vine Grove, KY
Physics
Raajthilak Baskaran
Madison, AL
Computer Science
Dylan Owens
Huntsville, AL
Accounting
Meagan Warner
Decatur, AL
Elementary Education
Analyn Bengs
Santa Maria, CA
Management
Mark Creel
Cullman, AL
Mechanical Engineering
Hannah Kohler
Florence, AL
Chemical Engineering
Nikita Jones
Clayton, AL
Biology
Christian Bailey
San Diego, CA
Economics
Hannah Kirsopp
New Hope, AL
Elementary Education
Peyton Walker
Huntsville, AL
Industrial & Systems Engineering
---
You may also be interested in: