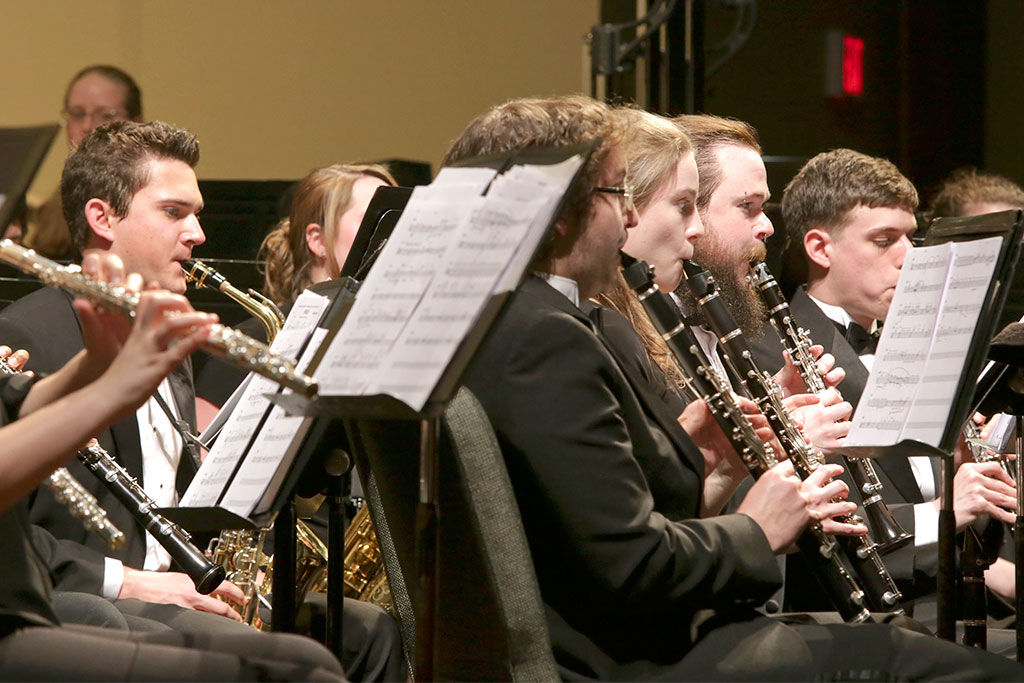 HUNTSVILLE, Ala. (April 7, 2014) – The Wind Ensemble at The University of Alabama in Huntsville (UAH) and the U.S. Army Materiel Command Band will give a joint performance at 8 p.m. on Friday, April 11, at the First Baptist Church (600 Governors Drive).
UAH conductor Dr. David Ragsdale and AMC commander CWO Jessie Pasqua will present a dynamic evening of repertoire with guest conductors Dr. David Spencer of Huntsville High School and Mr. Gary Green of the University of Miami.
The program, an exhibition concert for the Alabama Bandmasters Association's All-State Band Festival, will conclude with David Maslanka's epic Symphony No. 4. The program, approximately one hour in duration, is free and open to the public and consists of the following:
The Star Spangled Banner
Composed by Francis Scott Key and arranged especially for the UAH Wind Ensemble by UAH alum Curtis Lindsay, the National Anthem will be performed by baritone soloist SSG Scarlett of the U.S. Army Materiel Command Band.
Fanfare and Allegro by Clifton Williams
Fanfare and Allegro was the first composition to win the Ostwald Award for original band literature. The award was presented at the American Bandmasters Association convention in 1956. It is written in an exciting contemporary style with a brilliant score. The work opens with a declamatory fanfare section, which leads directly to the allegro movement. It features ostinato figures, brilliant brass, and percussion. Although rhythmically complex, the music is impressive and straightforward, and its resonance and sonority are ideally suited to the medium of the modern wind band.
Redwood by Ryan George
"When the Collins Hill High School Band approached me about writing a piece for their head band director, who was set to retire at the end of the year, they wanted something that spoke not only to this man's love of music but also to his love for the great outdoors. I was reminded, then, of the times growing up when my family and I would go camping in Sequoia National Park, and we would set up our tents among the giant redwood trees that grow in that region of California. These trees command attention with their immense stature, their size the result of years gone by and storms weathered. And yet they exude a peaceful and subtle tranquility. This idea of 'Powerful Tranquility' became the cornerstone of this lyrical tone poem." - Ryan George
Symphony No. 2 – III "Apollo Unleashed" by Frank Ticheli
"The finale, Apollo Unleashed, is perhaps the most wide-ranging movement of the Symphony No. 2, and certainly the most difficult to convey in words. On the one hand, the image of Apollo, the powerful ancient god of the sun, inspired not only the movement's title, but also its blazing energy. Bright sonorities, fast tempos, and galloping rhythms combine to give a sense of urgency that one often expects from a symphonic finale. On the other hand, its boisterous nature is also tempered and enriched by another more sublime force, Bach's Chorale BWV 433 (Wer Gott vertraut, hat wohl gebaut). This chorale serves as a kind of spiritual anchor, giving a soul to the gregarious foreground events. The chorale is in ternary form (ABA). In the first half of the movement, the chorale's A and B sections are stated nobly underneath faster paced music, while the final A section is saved for the climactic ending, sounding against a flurry of 16th notes." - Frank Ticheli
Symphony No. 4 by David Maslanka
"The sources that give rise to a piece of music are many and deep. It is possible to describe the technical aspects of a work – its construction principles, it orchestration – but nearly impossible to write of its soul-nature except through hints and suggestions. The roots of Symphony No. 4 are many. The central driving force is the spontaneous rise of the impulse to shout for the joy of life. I feel it is the powerful voice of the Earth that comes to me from my adopted western Montana and the high plains and mountains of central Idaho. My personal experience of the voice is one of being helpless and torn open by the power of the thing that wants to be expressed – the welling-up shout that cannot be denied. I am set aquiver and am forced to shout and sing. The response in the voice of the Earth is the answering shout of thanksgiving, and the shout of praise. Out of this, the hymn tune "Old Hundred," several other hymn tunes (the Bach chorales "Only Trust in God to Guide You" and "Christ Who Makes Us Holy"), and original melodies that are hymn-like in nature, form the backbone of Symphony No. 4." - David Maslanka
---
You may also be interested in: