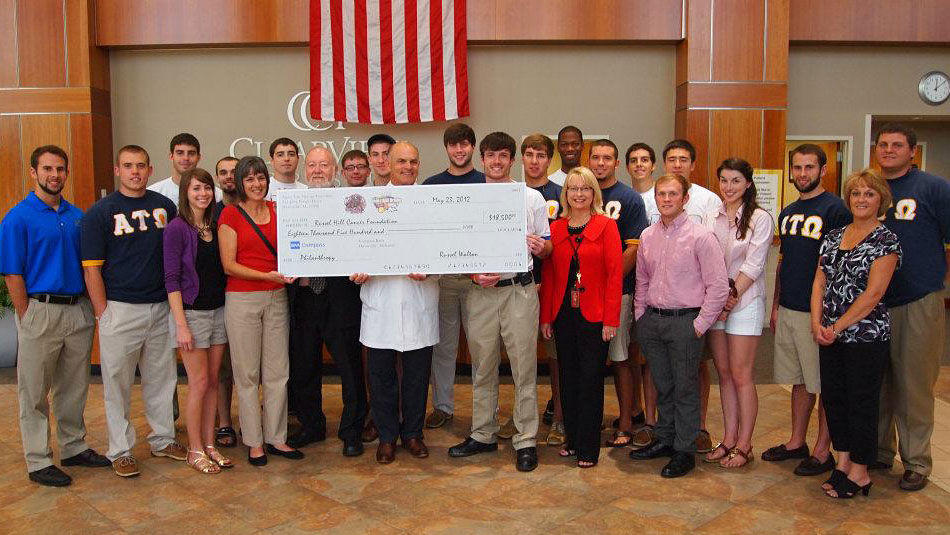 HUNTSVILLE, Ala. (April 7, 2014) — It's crunch time for graduating seniors at The University of Alabama in Huntsville (UAH). The few remaining days before graduation are spent dotting i's and crossing t's – cramming for exams, and completing senior theses for research papers or projects.
But students are temporarily putting books and laptops on the back burner to participate in Greek Week activities at UAH, April 5-12. The annual week-long event is filled with philanthropy projects and competitive social activities.
"One of the greatest values exemplified by our fraternity and sorority community at UAH is its commitment to community service and philanthropy. Every chapter supports both national and local organizations through these activities," said Dr. Regina Hyatt, dean of students and associate vice president of Student Affairs.
Hyatt said, in the past year UAH fraternity and sorority students have performed more than 17,000 hours of community service and raised nearly $70,000 for charitable organizations.
According to a 2013 annual report by the Corporation for National and Community Service (CNCS), 3.1 million college students dedicated more than 312 million hours of service to communities across the country. CNCS, a federal agency that supports and tracks volunteering in America valued the service at more than $6.6 billion dollars.
During the month of April, UAH students have planned numerous fundraising activities including events for cancer and arthritis research and treatment, and bone marrow donor drives.
Members of Pi Kappa Alpha (PIKE) is joining in the fight to find a cure for blood cancer. The organization will hold a Marrow Donor Registry Drive on Thursday, April 10, from 11:30 a.m., to 4 p.m., at the Charger Union Greenway on the UAH campus. The drive is in honor of eight-month old Hadley Mercer, who was recently diagnosed with acute myeloid leukemia. Hadley's dad is a graduate of the University of Alabama and a member of the PIKE fraternity.
One of the biggest fundraisers for the last six years has been the Alpha Tau Omega (ATO) fraternity event The Battle of the Buffalo. The event was organized in memory of ATO brother, Paul "Fish" Salmon. This year's event is Saturday, April 12, from 3 p.m., to 7 p.m., at Big Spring Park (downtown Huntsville).
"Paul lost his fight with acute myeloid leukemia in 2007," said Cody Gothart, PresidentATO - Theta Pi Chapter. "He loved to eat chicken wings, so we started the festival in his honor and it continues today.
"The Battle of the Buffalo Round 5 saw incredible growth with its first year in downtown Huntsville. In 2013, 17 restaurants brought over 20,000 wings to Big Spring Park to impress the 2,500 plus wing fanatics that attended from all over North Alabama."
Gothart said a total of $28,000 was raised for the Russel Hill Cancer Foundation to purchase an ultra high-tech microscope for the Clearview Cancer Institute.
"Since 2007, Alpha Tau Omega has raised more than $80,000 for the cancer foundation in memory of Paul to aid cancer patients in better treatments and providing financial assistance for those whose money is tight. Our goal for 2014 is $50,000."
Successfully, balancing academic study and spearheading a major fundraiser requires exceptional skill. Gothart said planning the annual event takes commitment and lot of leg work all year round. The ATO's begin planning the next year's buffalo event two to three weeks after the current one ends.
"We do everything to benefit people who are suffering. ATO wants to be the best fraternity we can possibly be, and we want to change people's negative perceptions about fraternity life. We started so small, but we had a huge drive to succeed. Paul's family is our family, so we try to live up to their expectations and to Paul's legacy."
For more info about the event http://battleofthebuffalo.com/ and online ticket sales https://squareup.com/market/alpha-tau-omega-4.
Other UAH student fundraising event for 2013-2014 include:
Alpha Omicron Pi, Delta Tau Chapter "Strikeout Arthritis" raises money for the Arthritis Foundation
Phi Beta Sigma Fraternity, Inc., "Mile of Dimes" event raises funds for the March of Dimes
Kappa Delta Shamrock Run raises money in honor of their sister, Sarah Chapman, killed in a biking accident in 2008
Delta Chi Dodgeball Tournament raises funds for the V Foundation (a cancer research foundation).
---
You may also be interested in: