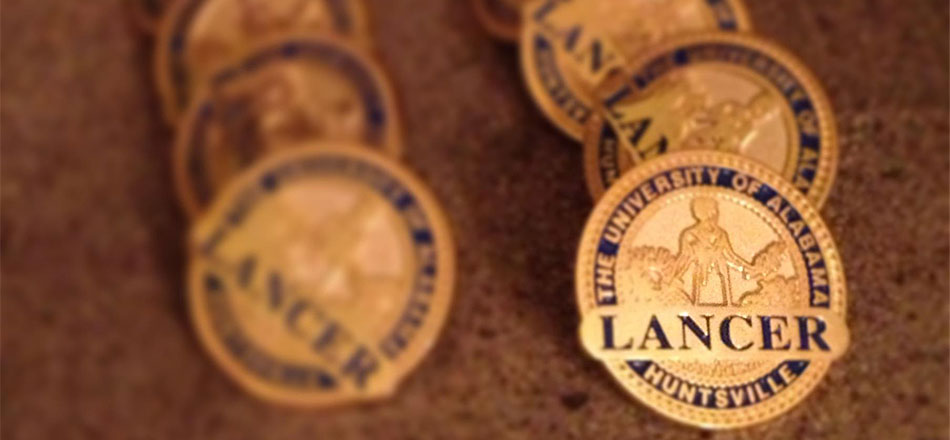 HUNTSVILLE, Ala. (April 1, 2014) – The Lancers welcomed their newest group of members for the 2014-2015 school year, a milestone that comes on the heels of their recent 40th anniversary celebration.
Made up of current students at The University of Alabama in Huntsville (UAH), the Lancers serve as de facto ambassadors for the university. Each semester, they donate at least 15 hours of their time - and often much more - to give campus tours; assist with Commencement, Convocation, and formal events held at President Robert Altenkirch's home; and promote a positive image of the University on campus and in the community.
And that's not all, says Taralyn Caudle, assistant director of alumni relations and Lancers staff advisor. "Their job is to provide information about the University to visitors and guests," she says, "but they also get to network with administrators, community leaders, and sometimes public officials, utilizing their etiquette and leadership skills."
As for the Lancers' newest additions, she continues, they're in good hands with the group's veterans. "They really are some of the most impressive students I've come across," says Caudle. "Not only are they all academically stellar, but they are also very dedicated – and frankly, run pretty darn efficient early-morning meetings."
To learn more about the Lancers, visit UAH Lancers.
2014-2015 Lancers
New Lancers
Megan Anders
Decatur, AL
Sophomore
History
Michelle Anderson
Lacey's Spring, AL
Sophomore
Aerospace Engineering
Raajthilak Baskaran
Madison, AL
Sophomore
Computer Science
Dallas Behrens
Huntsville, AL
Sophomore
Industrial and Systems Engineering
Brittany Black
Harvest, AL
Junior
Chemical Engineering
Rachel Bray
Huntsville, AL
Junior
Accounting
Michael Gvodas
Douglassville, PA
Sophomore
Mechanical & Aerospace Engineering
Cole Kelley
Madison, AL
Senior
Secondary Education Social Science
Bailey Maze
Arab, AL
Freshman
Nursing
Marcus McDowell
Huntsville, AL
Junior
Psychology
Kailyn Murphree
Arab, AL
Freshman
Nursing
Kaitlyn Sapp
Vinemont, AL
Sophomore
Chemical Engineering
Jacob Smith
Vinemont, AL
Freshman
Mechanical Engineering
Sydney Steele
Decatur, AL
Junior
Mechanical Engineering
Scott Trafton
Owens Crossroads, AL
Sophomore
Civil Engineering
Returning Lancers
Austin Finley
Brownsboro, AL
Sophomore
Aerospace Engineering
Lauren Griggs
Huntsville, AL
Sophomore
Finance
Ayesha Iqbal
Madison, AL
Junior
Biology
John Le
Opelika, AL
Senior
Mechanical Engineering
Blake Muzny
Brownsboro, AL
Sophomore
Mechanical Engineering
Nhu-An Nguyen
Harvest, AL
Junior
Biology
Elizabeth Patterson
Taft, TN
Junior
Industrial and Systems Engineering
Guillermo Reyes
Huntsville, AL
Graduating Senior (applying to UAH grad school)
Civil Engineering
Tanvi Singh
Madison, AL
Junior
Biology
Garrett Wilson
Huntsville, AL
Sophomore
Biology
---
You may also be interested in: