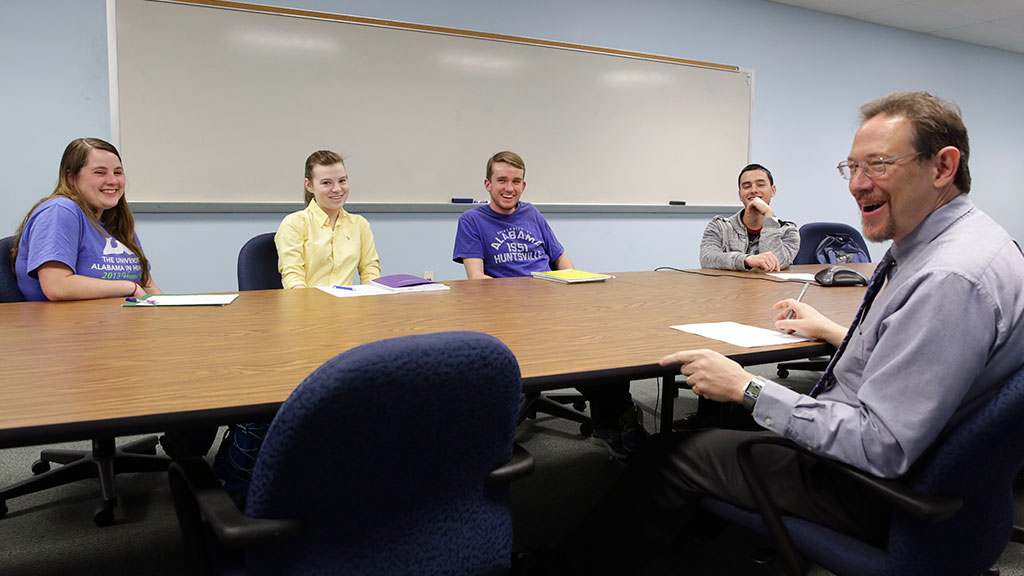 HUNTSVILLE, Ala. (March 27, 2014) – Any thermodynamics class worth its salt will include a lecture on the second law of thermodynamics. But what about the man behind the second law, Nicholas Carnot? Few may know that this son of a prominent French politician actually spent much of his life in the military before being interned in an asylum and dying of cholera at the age of 36.
But that is exactly the kind of fascinating backstory that Dr. Daniel Armentrout hopes to impart to the students in his Honors Thermodynamics Colloquium at The University of Alabama in Huntsville (UAH). Offered by the Department of Mechanical and Aerospace Engineering, the course runs concurrently with – and builds upon – the traditional Thermodynamics lecture.
"The more you learn about the people who made monumental contributions to science, the more you are confronted with their humanity and recognize that discovery is obtainable," says Dr. Armentrout. "So all of the students in the colloquium get exposure to the historical and personal context that led to significant discoveries in thermodynamics."
This semester, those students are Victoria Cain, Ryan Gott, Moriah Morehouse, and Kareem Omar. All are undergraduates in UAH's Honors College, and all say that the colloquium allows them to explore thermodynamics in a more meaningful way than the course's lecture-style counterpart.
"We learn about what people in the past did with significantly less technology, which gives me the confidence that I will be able to solve problems and make new discoveries," says Gott. Adds Omar, "this is what university is all about – a professor knowledgeable about a topic entertaining discussion with students who have the same interests."
Certainly, the small class size and academic prowess of his students keep Dr. Armentrout on his toes. "You are not sure the direction a colloquium will take, so you need to have a more in-depth knowledge of the topic," he says. "And you need to be flexible enough to adapt the colloquium to best suit the needs of the particular group of students."
But perhaps most importantly, you have to be able to help students make the leap from what is familiar – like memorizing equations – to what is unfamiliar – like applying critical and independent thought to a complex scientific concept. That's where this course really proves its worth.
"With the interaction in a colloquium, questions can be posed which help the students to think of new things in new ways," says Dr. Armentrout, who warns his students at semester's start that assignments lacking discovery will receive at most a score of 90%. "I am using stimulating discussion in the course to challenge students to discover and to encourage their thirst for knowledge."
And thus far, it seems to be working. "I have been surprised that even though the course focuses on thermodynamics, several students have turned their attention to the education process and realized they need to take a greater role in their own education," he says.
Much like Carnot himself, whose intellectual pursuits eventually surpassed his military ambitions, ultimately leading to his theories on thermodynamics. Though unlike Carnot, who suffered a tragic ending, there's no doubt that these honors students are destined for a much brighter future.
---
You may also be interested in: