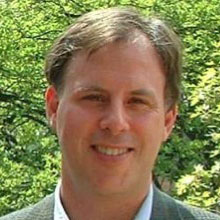 HUNTSVILLE, Ala. (March 31, 2014) — Noted philosopher David L. Hildebrand will be the keynote speaker for the Annual Philosophy Forum at The University of Alabama in Huntsville (UAH) on Friday, April 4.
His talk "Pragmatism and Objectivity: Habits for Democratic Life," will begin at 7 p.m., in the Union Grove Gallery (adjacent to the University Center). The forum is sponsored by the UAH Philosophy Department and is free and open to the public.
Hildebrand is professor and chair of the University of Colorado Denver (UCD). Before completing his graduate studies in philosophy, he was director of Education and Public Relations at a non-profit arts organization in Washington, D.C.
Prior to his arrival at UCD he taught at Rice University, The University of Memphis, and the University of Houston.
In addition to teaching and advising students, Dr. Hildebrand is an active researcher and presenter in philosophy, and holds memberships in several academic societies, and is very active in the Society for the Advancement of American Philosophy and the Southwestern Philosophical Society. He is also responsible for creating and maintaining a number of philosophy websites including UCD's Philosophy Department website and his own, davidhildebrand.org.
Hildebrand's primary research areas include American Philosophy, Pragmatism and Neopragmatism, and Epistemology. He is particularly interested in the application of pragmatism to areas outside of philosophy, such as teaching and public administration. Besides authoring articles on John Dewey, Kenneth Burke, Charles Pierce, and other figures in American philosophy. Hildebrand has published numerous journal articles and books, and is the author of Beyond Realism and Antirealism: John Dewey and the Neopragmatists. His latest book is entitled John Dewey: A Beginners Guide.
Hildebrand received his undergraduate degree in philosophy at The University of Pennsylvania, and earned his PhD., at The University of Texas at Austin.
---
You may also be interested in: