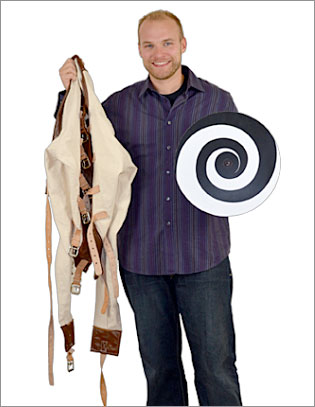 HUNTSVILLE, Ala. (March 24, 2014) — The dangers of irresponsible social media use and the destructive repercussions will be examined during a presentation by Rob Hackenson, Jr., on Monday, April 7, at The University of Alabama in Huntsville (UAH).
Hackenson's edutaining lecture is at 7 p.m., in the Charger Union Theater. The event is free and open to the public. His visit to the UAH campus is sponsored by the Office of Fraternity and Sorority Life.
Since 2004, Hackenson has traveled across the United States, and Canada speaking and giving keynote addresses to schools, colleges, organizations and companies, delivering highly interactive presentations on "Bullying Prevention," "Social Media Dangers and Cyber Safety," "Drug, Alcohol, and Tobacco Awareness (Sobering Thoughts)."
He specializes in educational entertainment that engages and educates. Hackenson's use of skits, hypnosis, mind magic, illusions, videos, and true stories will have the audience on the edge of their seats, laughing hysterically, or sitting in silence thinking about the important lessons of responsible posting.
At UAH, Hackenson will focus on:
How you are perceived through your online profiles and posts
Who's looking at your posts (such as job recruiters)
Sexting
Cyber bullying and/or threats
Internet Safety (predators using what you post)
Hackenson practiced the art of magic throughout his youth and received his certification as a hypnotist through the National Guild of Hypnotists. He received his undergraduate degree from Western New England University, and earned his MBA and certificate in advanced organizational leadership from Nichols College. After gaining corporate experience, Hackenson worked as a sales manager for IdeaLaunch and digital marketing manager at Winbrook. A few years ago, he decided to follow his passion to engage, inspire, and educated audiences.
Hackenson's client list includes Frito Lay, Comcast, The Hartford, The Boston Beer Company (Samuel Adams), New York Life, The American Lung Association and Future Business Leaders of America. His educational patrons include Yale University, University of Texas Arlington, SUNY Oswelgo New York, The Culinary Institute of America, and Boston University.
His presentational skills have been featured in The Boston Herald, FOX News, PBS, and Rogers TV Canada. Visit Hackenson at: http://dynamicinfluence.com/
---
You may also be interested in: