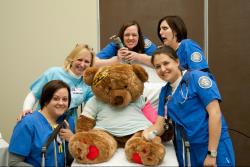 HUNTSVILLE, Ala. (March 10, 2014) - "Life is Sweet," adapted from the CANDY LAND board game is the 2014 theme for the 29th Annual Let's Pretend Hospital, sponsored by The University of Alabama in Huntsville (UAH) College of Nursing and Huntsville Hospital.
The simulated hospital will "admit" 2,700 Madison County first graders beginning Monday, March 17 through Friday, March 21, from 8:30 a.m., to 2 p.m., in the university's College of Nursing Building. UAH junior and senior nursing students will have the opportunity for hands-on-interaction with "sick" first-graders when they conduct Let's Pretend Hospital (LPH) this year. The nursing students have decorated the "pretend hospital" to look like the CANDY LAND board game.
The purpose of the role-playing project is to teach children what they can expect during a hospital visit and to minimize fear and anxiety associated with hospitalization. This project also allows UAH nursing students an opportunity to apply developmental theory in teaching children about nursing and health care.
This year, LPH is being coordinated under new leadership by Melissa Lonnergan, community health course manager, and Christy Bacon, clinical nursing faculty member. "Our vision for LPH is to provide a fun environment for children to learn about the hospital and the many departments within the hospital. It is our hope through educational games, teaching, and demonstration that children will leave LPH with a better understanding of the hospital. Our continued goal would be to lessen the anxiety and fear associated with hospitalizations," said Christy Bacon.
Bacon noted too, that this will be the last year in the old nursing facility. Next year, LPH will be held in the new UAH College of Nursing building. "We will continue to run LPH like we have in the past … youngsters will be able to visit the pretend emergency room, X-ray/laboratory, operating room, patient's room/Miss Molly, play area, and safety room," she said. "We will also have two ambulances available for the children to tour."
"Additionally, UAH nursing students have an opportunity to provide a service to our community while engaging in leadership, staffing, and planning activities; all vital to the formation of the Baccalaureate-prepared nurse." stated, Darlene Showalter, Interim Assistant Dean, Senior Year.
Children will also learn important information about how to make healthy food choices as well as important safety tips. Prior to the event, area teachers participating in the project receive information packets to help prepare children for the visit. The packets include the history of Let's Pretend Hospital, and other reading materials to prepare the children for the unique medical experience. Each child will receive a surgeon's cap and mask, pencil, coloring book and crayons.
The annual project is a joint effort of the UAH College of Nursing and Huntsville Hospital.