HUNTSVILLE, Ala. (Feb. 17, 2014) – This year's Hope Campaign at The University of Alabama in Huntsville (UAH) has officially kicked off! Sponsored by the Counseling Center, the campaign seeks to educate students on suicide prevention measures and provide messages of hope, health, and wellness to the campus community.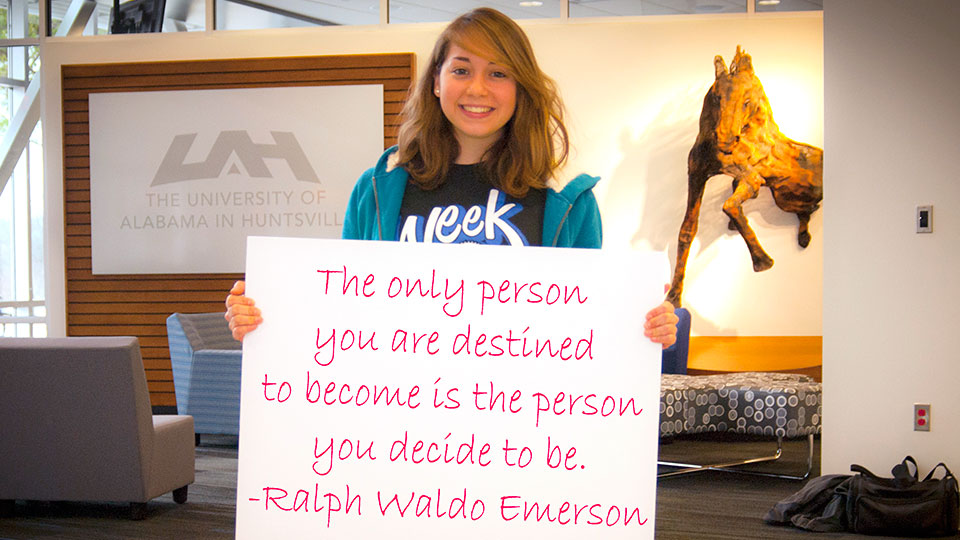 "This is actually year two that we have received the Garrett Lee Smith Foundation Suicide Prevention Grant, which is funded by The Substance Abuse and Mental Health Services Association," says Kelly Cothran, a counselor at the center. "And our first event of this year was Capturing Hope, which was held on campus last week."
Capturing Hope invited students, staff, and faculty to stop by the Charger Union lobby to have their photograph taken while holding a blank sign. Participants were then asked to select or write their own positive messages of hope, which were added to the signs in postproduction.
"We had almost 50 people show up, which for the first time is awesome," says Cothran, adding that the images will be posted around campus and on the campaign's website in the coming weeks. "We hope that, as students see their peers holding the signs, they'll also want to have a positive impact."
Next up for the Hope Campaign is "The Gospel According to Josh," a free play being held on Wednesday, Feb. 19, at 5:30 p.m. in the Shelby Center. It features a 15-character, 7-song, one-man performance by Josh Rivedal, a youth suicide prevention specialist, playwright, actor, and suicide survivor following the loss of his father.
"Josh will tell his story and his experience as a survivor, including how he reached out to his counseling center and was able to find a home there," says Cothran. "He will also talk about the impact of suicide on those who are left behind, to help people see what it's like to be a survivor."
And later this year, on Sept. 13, the Counseling Center will host a Hope Lives On 5K around the UAH campus to raise funds for the American Foundation for Suicide Prevention and Huntsville's own Therapy Partners Inc.
"It's really a move toward overall student health and wellness, including fitness," says Cothran. "With earlier intervention, or upstream suicide prevention, like the kind the Hope Campaign embodies, we hope to make more of an impact."
---
You may also be interested in: