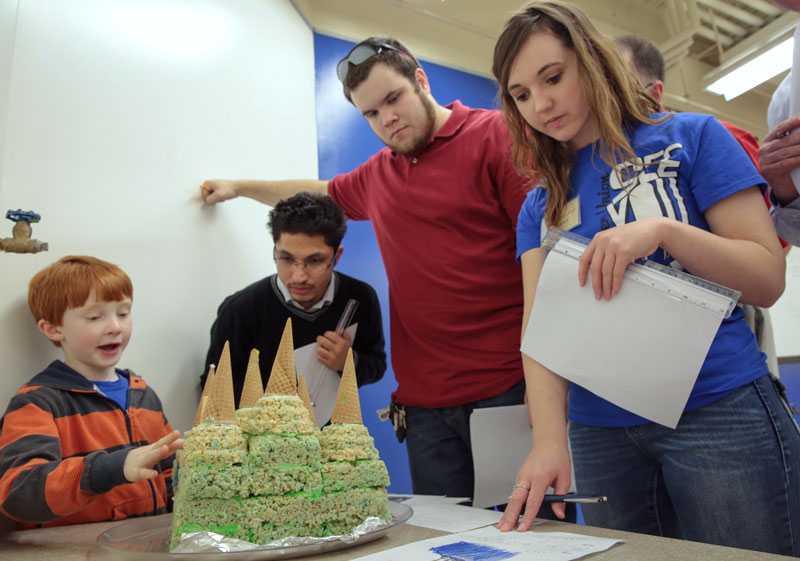 HUNTSVILLE, Ala. (Jan. 23, 2014) - On Saturday, Jan. 11, school-age kids and parents from North Alabama gathered in the Engineering Building at The University of Alabama in Huntsville (UAH) for the first-ever Project Candy Land competition. The goal? To build a 3-D structure made out of 100% edible candy materials using the principles of science and engineering.
The contest was conceptualized and planned by two area students, Anish and Niam Abeysiriwardena, with Dr. Krishnan Chittur, professor of chemical and materials engineering at UAH, serving as the event's faculty advisor.
Ultimately, 18 aspiring young engineers rose to the challenge, presenting their creations to a panel of judges, who awarded points for stability, creativity, detail, density, and presentation. Among them were six seniors from UAH's Department of Chemical & Materials Engineering (Bryan Call, Alaine Dempsey, Ragan Haymon, Vivian Nguyen, Jonathon Savoy, and Jennifer Thomas), four professional engineers from General Electric (David Pepper, Orbin Dempsey, John Kent, and Dot Hall), and chemical engineer and Huntsville newcomer Solveig Irvine.
Several prizes were then awarded to the best Candy Structure Builder Presenter and Candy Structure Builder Light Weight Champion in two age groups, as follows:
Level I (6-9 years)
Candy Structure Builder Presenter Award: Zoe Johnson
Candy Structure Builder Light Weight Champion Award: Kelechi Okoro
Level 2 (10-14 years)
Candy Structure Builder Presenter Award: Alric Skaggs
Candy Structure Builder Light Weight Champion Award: Kaia Johnson
With a final, overall prize going to Candy Structure Builder Extraordinaire, Zoe Johnson.
Says Dr. Angela Anandappa, parent of Niam and Anish Abeysiriwardena, "we hope this inspires more creative challenges and helps all our students no matter the age."
Thanks to all who participated, and congratulations to our winners!
---
You may also be interested in: