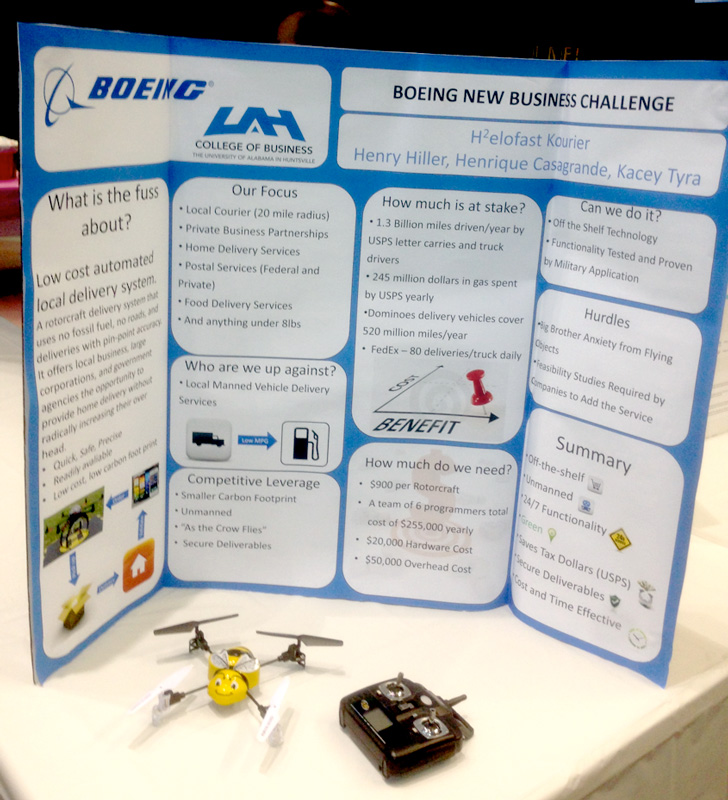 HUNTSVILLE, Ala. (Nov. 10, 2013) - Over Thanksgiving, The Boeing Company concluded judging of the first round of student competitors in the Boeing New Business Challenge business plan competition held at the College of Business Administration of the University of Alabama in Huntsville (UAH). The students are competing for a grand prize of $10,000 in scholarships provided by Boeing for undergraduate or graduate education at UAH.
Ten teams of undergraduate engineering and business students presented posters and three-minute business pitches to a panel of five judges, including three officials from The Boeing Company, based in Huntsville; Dr. Caron St. John, Dean of the College of Business Administration; and Dr. John R. Whitman, Interim Director of the ICE Lab and visiting professor at the College.
The Boeing judges were Ms. Virginia A. Barnes, Vice President and Program Manager for Space Launch System, Space Exploration; UAH graduate Mr. Elliot L. Jones of Business Operations; and Mr. Jack Kachelman, Senior Manager of Business Operations and Finance.
The student teams presented a broad range of business ideas: a website for conducting specialized searches; a personalized cupcake shop; a service to help Chinese people speak English; a fitness tracking mobile application; a website to facilitate dining out; a custom phone case manufacturer; a drone delivery service; a wrist strap cooling device for athletes; a technology education service; and a biomechanical solution for using a 3-D printer to manufacture artificial tissue for drug testing.
The Boeing New Business Challenge is in its second year at UAH. "It is great to see the significant growth in the interest from the student body," said Boeing judge Kachelman. "We are seeing this develop into the event that was envisioned with the initial concept. From the Boeing perspective it is great to have so much interest in the competition. Participants in the poster review now have our feedback and can improve on their concepts, products, and presentations."
The competition is now open to new entrants from across campus. Students who presented in the poster session earned points that will give them an advantage in the final business plan competition scheduled in the spring of 2014.
---
You may also be interested in: