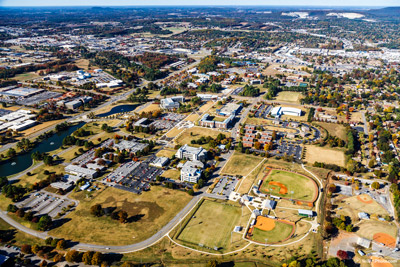 HUNTSVILLE, Ala. (Nov. 5, 2013) - Affordable Colleges (AC) Online recently awarded The University of Alabama in Huntsville (UAH) the number one spot on their latest ranking of the "Highest Return on Investment Colleges in Alabama."
According to the report, the goal was to build "a list of top colleges in Alabama with low net costs (tuition + fees) that result in career value." And with a return on investment of $903,500 - almost $130,000 more than second-ranked Auburn University - UAH proved that it does just that.
"Our priority is to ensure every student here receives a quality education that directly translates into a stable - and ideally well-paying - career, especially during these tough economic times," says UAH President Dr. Robert A. Altenkirch. "Our university's place atop AC Online's most recent ranking, I believe, is testament to the fact that we are succeeding."
It also helps that UAH is located in one of the nation's fastest-growing and most technologically advanced cities. "With a strong economy and a wealth of government and industry employers literally right across the street from campus," he says, "we are blessed to have so many of our students find employment right here in Huntsville upon graduation."
Ninety-one colleges were analyzed for the report, among which 17 were ranked. To determine each college's eligibility, AC Online gathered data from the National Center for Education Statistics, the Integrated Post-Secondary Education Data System, and the Carnegie Foundation was combined with PayScale.com's 2013 College Earnings Report.
Earlier this year, UAH was also ranked number one on The College Database's list of most affordable colleges.
---
You may also be interested in: