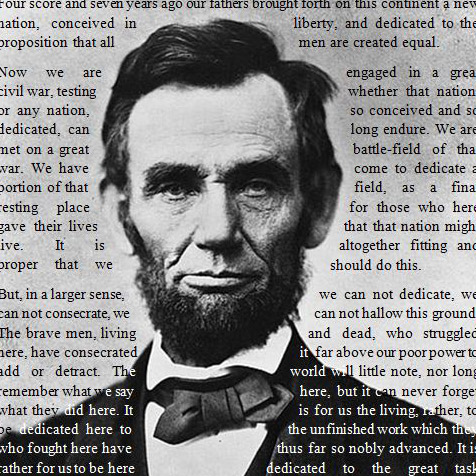 HUNTSVILLE, Ala. (October 14, 2013) - The University of Alabama in Huntsville (UAH) Honors Lecture Series welcomes Mark Scherer and Lisa L. Scherer from the University of Nebraska-Omaha (UNO) to the campus on Thursday, to deliver two public lectures.
Mark Scherer will deliver the talk "Finding Meaning in Tragedy: Lincoln and the Gettysburg Address," from 11:10 a.m., to 12:15 p.m., in the Shelby Center for Science and Technology room 107. At 6:30 p.m., Lisa L. Scherer will host the Honors Hot Topic discussion "Work-School Conflict: Some Undergraduate Research Findings," in the Honors Lounge, Morton Hall room 336. Both talks are free and open to the public.
Mark Sherer is chairperson and associate professor of History at UNO. As the 150th anniversary of Abraham Lincoln's Gettysburg Address approaches, Dr. Scherer, will offer an analysis of that iconic event. Scherer's presentation will focus on the military and political dynamics that brought Lincoln to Gettysburg on November 19, 1863, the purpose that lay beneath the language he chose to use, and the way in which his words have resonated throughout American history.
Dr. Scherer, a former practicing attorney received his Ph.D., from the University of Nebraska-Lincoln, and his J.D. from the Ohio State University (OSU) College of Law.
Dr. Lisa L. Scherer is an industrial-organizational psychologist, and associate professor of Psychology at UNO. Her talk will explore some topics presented by her students at the National Council on Undergraduate Research conference last April. Although work-family conflict has been extensively studied, there has not been as much study of work-school conflict, particularly related to its effect on stress.
She is also co-director of UNO's Volunteer Program Assessment Outreach to Nonprofits. She received her bachelor's, master's and Ph.D., at OSU. Dr. Scherer has taught for the psychology department at both the graduate and undergraduate level. She has served as a research mentor for many graduate students in industrial-organizational psychology and undergraduate psychology students.
The Scherer's visit to campus is sponsored in part by the Honors College, and Dr. Joe Leahy of the UAH Biological Sciences Department. A reception will be held at 8 p.m., in Shelby Center room 300.
For more information, contact:
Joyce Anderson-Maples
(256) 824.2101
maplesj@uah.edu
---
You may also be interested in: