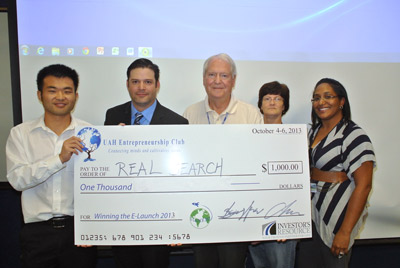 HUNTSVILLE, Ala. (Oct. 10, 2013) - The Entrepreneurship Club at The University of Alabama in Huntsville (UAH) is pleased to announce the winners of the second annual E-Launch 48-hour business plan competition, held this past weekend on the UAH campus.
In first place was team RealSearch, consisting of Matt Ashby, Melinda Kilgore, Meagan Hollaway, and Bin Chen. Their comprehensive business plan for a web-based real estate company garnered a $1,000 prize from Investor's Resource/Raymond James, 5 hours of free CPA consulting with Paul Lindgren at Seaman, Shinkunas, and Lindgren PC, and 5 hours of free legal consulting with Frank Caprio from Bradley Arant Boult Cummings LLC.
In second place was team NestEgg, consisting of Tanner Carden, Gavon Carden, Devon Bane, and Tim Gauldin. NestEgg produced a plan for a biotech business that helps drug firms test their drugs more economically, which yielded $500 in prize money from Investor's Resource/Raymond James.
The competition was launched Friday night with student participants presenting one-minute idea pitches to recruit potential student team members. Once the teams were formed, members learned how to create a business plan and pitch to investors.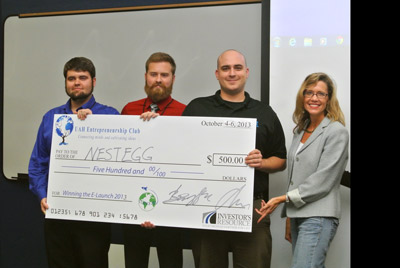 The teams were then mentored by local Huntsville entrepreneurs, who advised the students and helped them hone their presentations. Finally, on Sunday, each team presented their plans to the panel of competition judges, which included Kannan Grant, Director of UAH's Office of Technology Commercialization; Bob Locklear, Director of Business Development for ADTRAN; and Dr. Krishnan Chittur, UAH Professor of Chemical Engineering and President of GeneCapture.
And while there could only be two winners, the other two teams - one an app to help users navigate large conventions and give user data to exhibiters, and the other table-size tablets to be used in collaborative software development - also earned the judges' praise.
In addition to the prize sponsors mentioned above, this year's E-Launch competition was made possible by support from Lisa and Phil Williams, Ron Wicks, UAH's Office of Technology Commercialization, PresentationYou, Kumar Patel, the College of Business Administration, the College of Engineering, the College of Graduate Studies, Palo Alto Software, Total Package Hockey, and Hometown Lenders.
---
You may also be interested in: