Sanmina-SCI provides $50,000 gift to UAH honoring Huntsville executive Olin King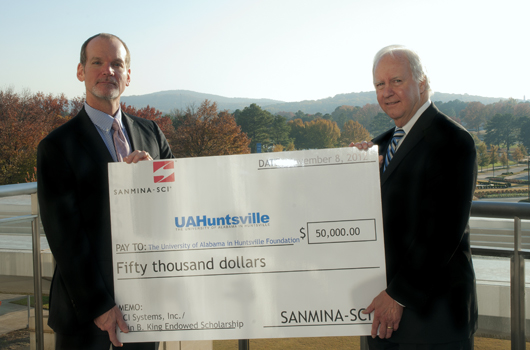 Mike Underwood, President of Sanmina-SCI Defense and Aerospace Systems Division, presents a $50,000 check to UAHuntsville President Bob Altenkirch in honor of SCI Systems Founder and former University of Alabama Board of Trustee member Olin King.
HUNTSVILLE, Ala. — Sanmina-SCI's Defense and Aerospace Systems Division is providing a $50,000 gift to The University of Alabama in Huntsville to increase the endowment of a scholarship fund that was established in 2000 in honor of Olin B. King.

King was the founder and former CEO of SCI Systems Inc., and under his leadership the company grew into a Fortune 500 company that today provides multi-national electronics manufacturing services with multi-billion dollar annual sales. Sanmina merged with SCI Systems in 2001. Today, Sanmina-SCI employs more than 45,000 people around the world, including 1,367 in Huntsville.

King passed away in June 2012 at the age of 78.

Mike Underwood, president of Sanmina-SCI's Defense and Aerospace Systems Division, said King's legacy would remain a part of the Huntsville community by providing assistance to deserving UAH students seeking an engineering or science degree.
"Olin was a tremendous businessman and entrepreneur, and his leadership skills had a huge impact on Huntsville," he said. "He contributed greatly to the Huntsville area's development as a center of science and industry, and to our nation's progress in electronics and aerospace technologies.

"Olin's service on the Board of Trustees of The University of Alabama, and his leadership on the UAH Foundation were instrumental in moving The University of Alabama in Huntsville to the forefront of nationally recognized universities for teaching and research," Underwood added.
Scholarships from this endowment are awarded to full-time students with preference given to qualified students who are Sanmina-SCI employees or descendents of current or past employees, who attain ACT scores of 26 or higher, and are first-time students who wish to pursue a degree in engineering or physical science disciplines.

Recipients of these scholarship dollars are called "Olin B. King Scholars."

UAH President Robert Altenkirch said the generosity of Sanmina-SCI's gift would benefit students long into the future.
Olin King was a fabulous benefactor for this university and his advice and guidance was crucial in our development," Altenkirch said. "This magnanimous gift provided by Sanmina-SCI is important in helping us reach our goals of providing more and higher-quality engineers and scientists to the local workforce."

Sanmina-SCI Corporation makes some of the most complex and innovative optical, electronic and mechanical products in the world. As a leading integrated manufacturing services company, with revenue totaling $6.1 billion for fiscal year 2012, Sanmina-SCI provides custom design and manufacturing, plus global supply chain solutions to high technology Original Equipment Manufacturers (OEMs).
You may also be interested in:
For more information,
contact Ray Garner
256.824.6397
(256.UAH.NEWS)
ray.garner@uah.edu