UAHuntsville, Junior Achievement to host entrepreneur camp for high school students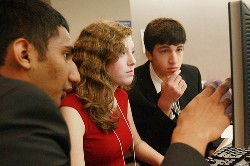 HUNTSVILLE, Ala. (June 1, 2012) — The University of Alabama in Huntsville (UAHuntsville) is hosting a summer camp July 15-20 for high school students who want to learn about and experience the life of an entrepreneur. The deadline for applications is June 15th.
The UAHuntsville College of Business Administration and Junior Achievement of North Alabama are joining together to offer the Experience Entrepreneurship! camp. Students will live on the UAHuntsville campus and work in teams to design and plan the launch of a new product or business concept – all with the guidance of successful local entrepreneurs, UAHuntsville Entrepreneurship Club students, and leading faculty. The idea is to expose students to the entrepreneurial way of thinking that is so important in the U.S. innovation economy – from recognizing opportunities, understanding customers and competition, designing creative business models, to persuading others to join a start-up team. The camp will end with a competition for the best business model with prizes and awards for the winning team.
"All students, regardless of their intended college major, benefit from exposure to the entrepreneurial process. Successful entrepreneurs come from all walks of life, all educational backgrounds – and their success drives the economic success of the nation," said Caron St. John, Dean of the College of Business Administration.
The camp fee is $300 and includes all housing, meals, and program materials. Student applications are due by 5:00 p.m., Friday, June 15 . Specific questions regarding the application may be answered by calling (256) 824-6736 or email BusinessDean@uah.edu. Applications must be completed in full to be considered for the Entrepreneurship Camp.
Merit and financial need scholarships are available for students. All participants must be high school students who have completed their sophomore year and will be a junior or senior in fall 2012. Applications may be completed online by visiting:Application (pdf), Online Application, Online Scholarship Application, Online Reference Form.
For more information
Joyce Anderson-Maples, (256) 824-2101
maplesj@uah.edu