Computer Labs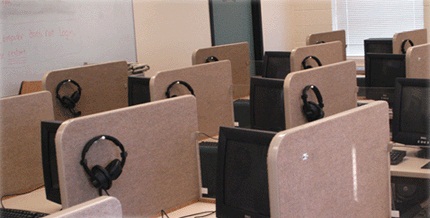 Language Lab
The newly renovated College of Liberal Arts Foreign language laboratory opened in Morton Hall, room 300 in the Fall of 2003. The student workstations are equipped with state-of-the-art technology, providing editing and scanning capabilities, burners for compact discs, and Internet access. A shared academic commitment for modernization of the lab by Provost Lewis Radonovich and Dean Sue Kirkpatrick made the recent renovation a reality.
The lab is much more user friendly, with a new digital server that feeds 30 student stations. Old tape decks were eliminated by installing new, efficient computerized workstations, and students are ensured more privacy for log-on procedures. Instructors can assign and check homework projects, and add comments. Students can also burn their homework assignments on CDs. Students are able to record oral answers to exams encoded onto the server and save them to their individual file. The instructor is able to listen to students' pronunciation and assess their abilities. The student's work, either text or audio response recording, can be saved in a file onto the server, saved to the PC hard-drive or burned to a CD. Each student workstation has been installed with Divace solo software. Students taking language courses are assigned a password to log in. Upon logging in, students are sent directly to the course material for specific registered classes.
Visit the Language Lab for more info.
---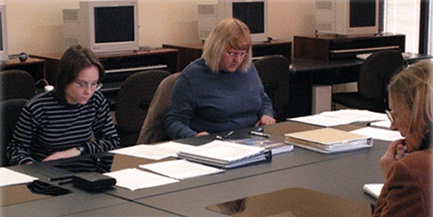 Salmon Library Labs
The Salmon Library at UAH supports the academic and research programs of the university through its collection of 415,300 volumes, 2,460 periodical subscriptions, U.S. government documents, sound recordings, materials in microform and microfiche, and manuscript collections. It also holds a computer lab designed specifically for the College of Liberal Arts.