Dr. John F. Kvach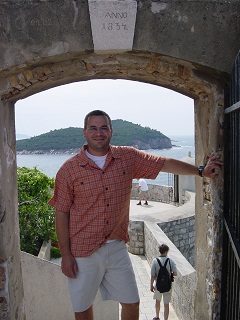 Assistant Professor of History
407 Roberts Hall
(256) 824-2570
John.Kvach@uah.edu
Areas of Specialty
American South
Public History
Nineteenth-Century America
Civil War and Reconstruction
While sitting on his grandfather's lap at age eight, John Kvach proclaimed that he wanted to be a history professor one day. Decades later he fulfilled his promise. In the years between promise and terminal degree, John attended West Virginia University and earned his B.A. and M.A. in History and Public History. After leaving Morgantown he worked for the National Park Service, National Library of Medicine, and various other private and public museums and archives. John later spent six years as an instructor and administrator at Howard Community College in Columbia, Maryland. Eager to follow his dream, John went back to school and earned his Ph.D. at the University of Tennessee-Knoxville. His dissertation and research focused on J. D. B. De Bow, the editor of De Bow's Review, and the movement toward economic modernization in the antebellum South.
At UAH, John teaches a variety of American and world history survey courses and upper-division courses on southern history, public history, nineteenth-century America, Alabama history, and Civil War and Reconstruction.
John enjoys spending free time with his wife, Ann, and his two young sons Ben and Tom. When not working or being Dad, he likes to frustrate himself on the golf course and ruin an otherwise pleasant walk.
John is excited about teaching and looks forward to passing that enthusiasm along to students who love history and to those who don't yet know that they do.