Honors Day is April 4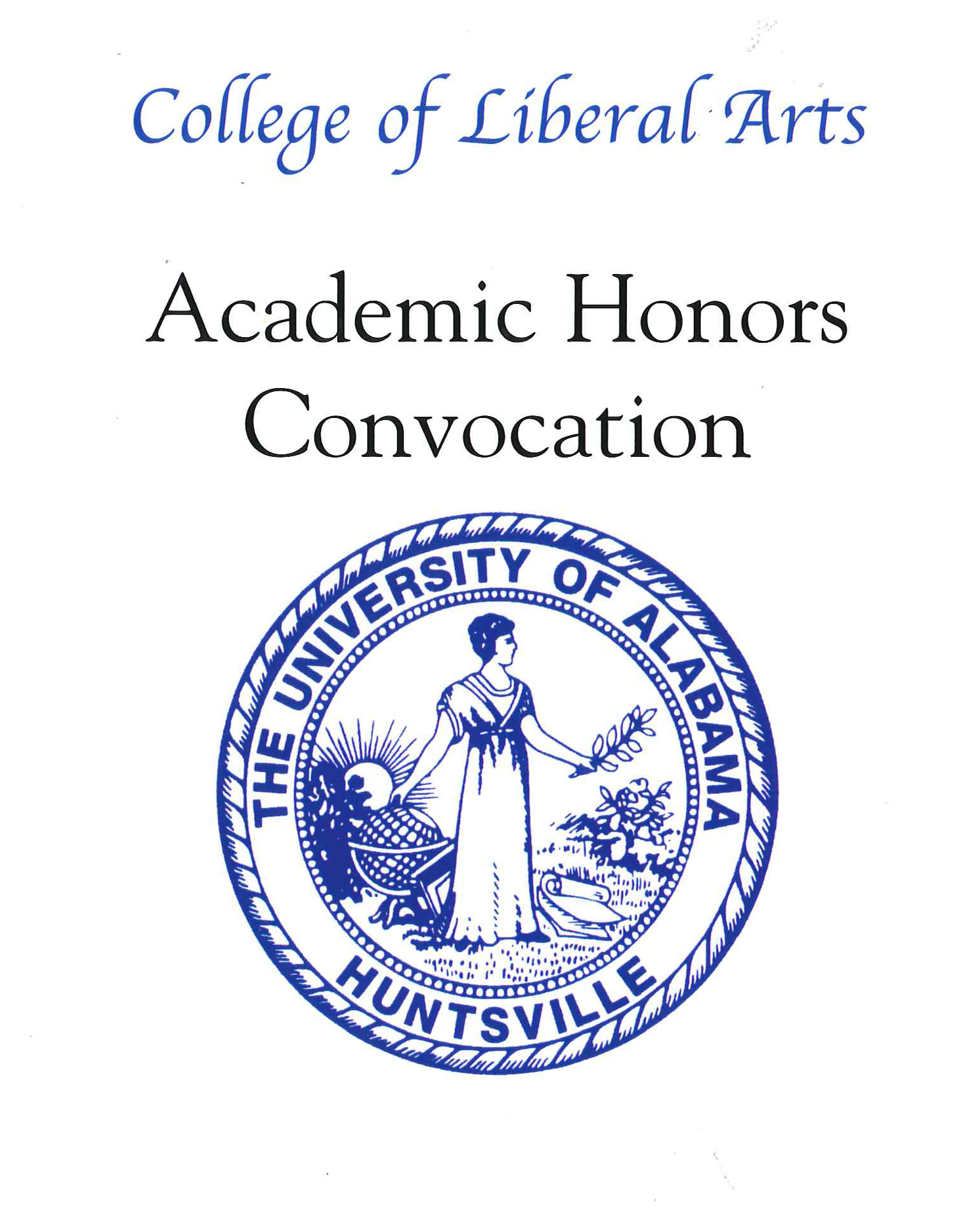 President Robert Altenkirch has declared April 4, 2013 as UAHuntsville Honors Day and has stated that no classes will be held on that day so that we can give suitable attention to the accomplishments of our students. That afternoon, our college will honor undergraduate and graduate students who have earned departmental awards, certificates, membership to the Dean's List, membership to academic honor societies, and other noteworthy awards.
Letters were mailed to students who have achieved honors.
Information about Honors Day

Thursday, April 4, 2013
2:00 p.m.
Roberts Recital Hall
Dress is Business Professional
Certificates for students on the Dean's List will be handed out after the ceremony. Please remember to come down to the stage to pick yours up! If you are unable to attend, your certificate will be available for you to pick up in the Dean's Office (Morton Hall 256) starting the morning of April 5, 2013, and will be available until the end of the semester.

Seating is limited, so we suggest that honorees arrive by 1:45 p.m. to select a seat. Dean's List students and Honor Society Inductees may sit anywhere in audience, except for reserved seating. As your name is called, you will be asked to stand and be recognized in your steat.
Students winning other awards will have reserved seating in the first two rows of the audience. Please refer to your notification letter to see if you will need to occupy a reserved seat. Additionally, faculty seating will be reserved on the left side of the auditorium. Please do not sit in the faculty seating area or allow your family members to do so.
Parking is availalbe in the lots adjacent to Roberts Hall and the University Center. Two large parking lots are available for visitors on Honors Day. Please arrive in time to park and make your way to the Recital Hall, which is located on the first floor of Roberts Hall.
If you have a FERPA hold on your account, please download this waiver to allow your name to be announced and printed in Honors Day materials. If you do not turn in your FERPA waiver, your name cannot be printed in the program or announced during the ceremony. You must turn in your FERPA waiver by March 8, 2013.
If you have any other questions, please call the Dean's Office at 256-824-6200 or email dean-la@uah.edu.
Dean's List Qualifications
The Dean's list requires a 3.5 or higher GPA and 20 hours or more earned in the last 3 completed academic terms.