Building Better Bands Through Repertoire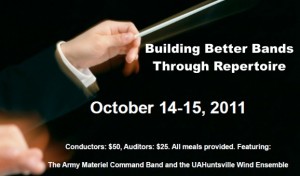 This two-day workshop is designed to expose participants to the worthy works, those pieces that inspire students and directors alike. Each participant will contribute and conduct up to two works – one a "new gem": a more recent musical discovery of an inventive and fresh piece; and the other an "old chestnut": that piece you've been using for years because it's teachable and beautiful.
In addition to repertoire sharing, participating conductors will receive live conducting feedback as well as front-facing DVD video of your time on the podium. An optional session of advanced repertoire is also available, should you desire a more intensive conducting experience.