South African Composer to Visit UAH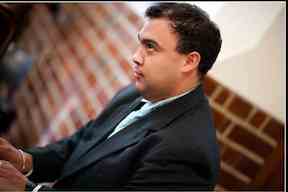 Kevin Kraak is a composer, organist/keyboardist, and conductor living in Johannesburg, South Africa. Mr. Kraak will be coming to UAH as a composer-in-residence from November 4 - 10, 2013. He wrote a piece for the UAH Chamber Choir entitled, FOUR PRAYERS FROM AFRICA. This piece will be premiered, with the composer in residence, on Friday, November 8 at the Church of the Nativity at 730pm. Additionally, the Chamber Choir will sing Benjamin Britten's REJOICE IN THE LAMB for Britten's centerary, Suzanne Purtee, organist, and Concert Choir will sing works by Bennet, Morely, F.J. Haydn, and Emma Lou Diemer.
Additionally, Mr. Kraak will present lectures on South African music within the community over the course of the week. He will present a public lecture at UAH on Thursday, November 7, 930am in the Roberts Recital Hall. On Sunday, November 10, at 5pm, Mr. Kraak and Ms. Purtee and the Church of the Nativity Choir will present an Evensong of music by South African composers.
Mr. Kraak brings to us a great deal of knowledgeable about the indigenous music and cultures of his country. He comes from Cape Town and his parents are of "English" descent, meaning their first language is English, not Afrikaans. Yet, he is part-Indian; his family is descended from the eastern Indians that were brought to Africa as slaves during its colonization. His background gives him a unique perspective as a musician living in South Africa post-Apartheid.
Mr. Kraak plays for the Johannesburg Symphony and is Assistant Conductor and accompanist for the Johannesburg Symphony Chorus. He is also employed full-time as a church organist/choral conductor at St. Columba's Presbyterian Church, Parkview. Additionally, is a successful composer of classical music as well as film music. He also works frequently as a free-lance keyboardist for various Broadway touring shows and other professional ensembles, and as a recording session artist.