Faculty Recital: Katherine Newman, harp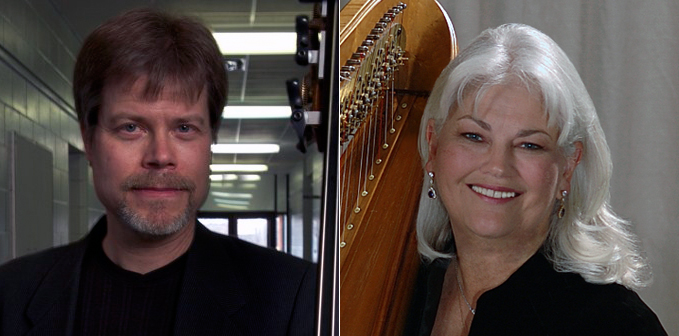 UAHuntsville Faculty Harpist Katherine Newman collaborates with Louisville bassist and composer Sidney King at UAHuntsville on Monday, September 10 at 7:30 PM in Roberts Recital Hall.
Prominent Louisville composer and double bassist Sidney King will present a recital of diverse contemporary works, including his own suite of flamenco-inspired dances for harp and bass, performed with Katherine Newman, north Alabama's leading harpist. In addition, the program features a sonata by New Orleans composer David Anderson, and works by Peter Askim and Serge Lancen. Also performing is pianist Krista Wallace-Boaz of the University of Louisville School of Music faculty.
DETAILS
Monday, September 10, 2012, 7:30 p.m., Roberts Recital Hall, UAHuntsville
The recital will be repeated in Murfreesboro, TN, on Tuesday, September 11, 2012, 8 p.m. Hinton Hall, Wright Music Building of Middle Tennessee State University.
PROGRAM
SIDNEY KING: Two Flamenco Dances for Harp and Double Bass
DAVID ANDERSON: Sonata No. 2 for Double Bass and Piano
SERGE LANCON: Croquis for Double Bass and Piano
PETER ASKIM: Edge for Solo Double Bass
SIDNEY KING
From the fire of flamenco to the transcendence of sacred choral settings, composer Sidney King's compositions explore a wide spectrum of musical genres. He has performed with major orchestras throughout the nation, and as guest principal bass with the Huntsville Symphony Orchestra on numerous occasions. As performer, composer, and arranger with the nationally prominent progressive flamenco ensemble "...al Sur," Mr. King has appeared throughout the U.S. in concert halls, theaters and nightclubs, and on radio broadcasts. He serves on the faculty of the University of Louisville School of Music.
KATHERINE NEWMAN
During a career spanning four decades, harpist Katherine Newman has touched many lives with her acclaimed performances and dedicated teaching. She has concertized extensively in throughout the southeast and in the Washington DC area, performing with the symphony orchestras of Atlanta, Alabama, Baltimore, and many others. Previously holding the position of principal harp of the Columbus (GA) Symphony Orchestra and the Mobile Opera, she has held the position of principal harp of the Huntsville Symphony Orchestra since 1998. Ms. Newman serves on the faculties of UAHuntsville, Calhoun Community College, the University of North Alabama and Oakwood University.