Melody Ng, Assistant Professor
Piano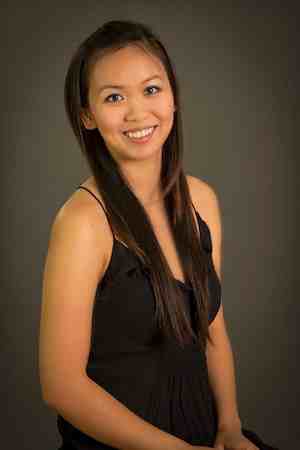 Dr. Melody Ng is a native of Hong Kong. She was the first-prize winner in numerous competitions, including Neale-Silva Young Artists' Competition, Badger Collegiate Competition, MTNA (State & Regional) Young Artist Competition, UW Beethoven Piano Competition and Irving Shain Woodwind & Piano Duo Competition. Her appearances include broadcasted performances on Wisconsin Public Radio and at the Kennedy Center in Washington D.C. Ms. Ng has also performed with the Concord Chamber Orchestra and Lawrence symphony Orchestra, and in both the 9th and 10th Annual World Piano Pedagogy Conferences. As a prize-winning collaborative pianist, she currently performs concert tours and gives workshops with The Kat Trio throughout the Midwest.
In addition to her performance career, Ms. Ng currently teaches various programs at University of Wisconsin-Madison, including Group Class Piano and Secondary Piano at the Keyboard Department, Adult Piano Studies at the Division of Continuing Studies, and Piano Pedagogy Lab & Piano Pioneers Outreach Program. She has previously served on the faculty at Lawrence University and Piano Odyssey Summer Camp.
An active clinician and scholar, Ms. Ng has given workshops and presentations at the National Group Piano and Piano Pedagogy Forum, Piano Pedagogy Symposium, and Wisconsin Science Festival. This spring, she will present papers at the 21st European Association for Music in Schools Conference in Belgium, the Canadian Federation of Music Teachers' Association Biennial Convention in Nova Scotia, the 9th Asia Pacific Symposium on Music Education Research in Singapore, College Music Society's Southern Chapter Regional Conference, and the Texas Music Teachers Association Convention. Her presentation, "Fusion: Amalgamation of Technology and Music in Class Piano", is recently featured in the Music Teachers National Association e-Journalpublication.
Ms. Ng is very involved in the community. She currently serves as the President of the Music Teachers National Association Collegiate Chapter - UW Madison, which organizes free concerts for the Madison area, and provides free wellness and music workshops for students and music teachers. She also coordinates the Sound Health Community Program, a partnership between UW Hospital and UW-Madison School of Music that brings music to the health care environment.
Ms. Ng is currently a senior teaching assistant and dissertator in Piano Performance & Pedagogy at University of Wisconsin - Madison, and has a doctoral minor in Business. She received the double-degree in Piano Performance and Economics from Lawrence University. Her teachers include Anthony Padilla, Christopher Taylor, and Jessica Johnson.
Hired: 2013
Credentials
DMA, University of Wisconsin
Research/Creative Activity
Piano Literature and Piano Ensemble

Email: melody.ng@uah.edu
Phone: 256-824-2579