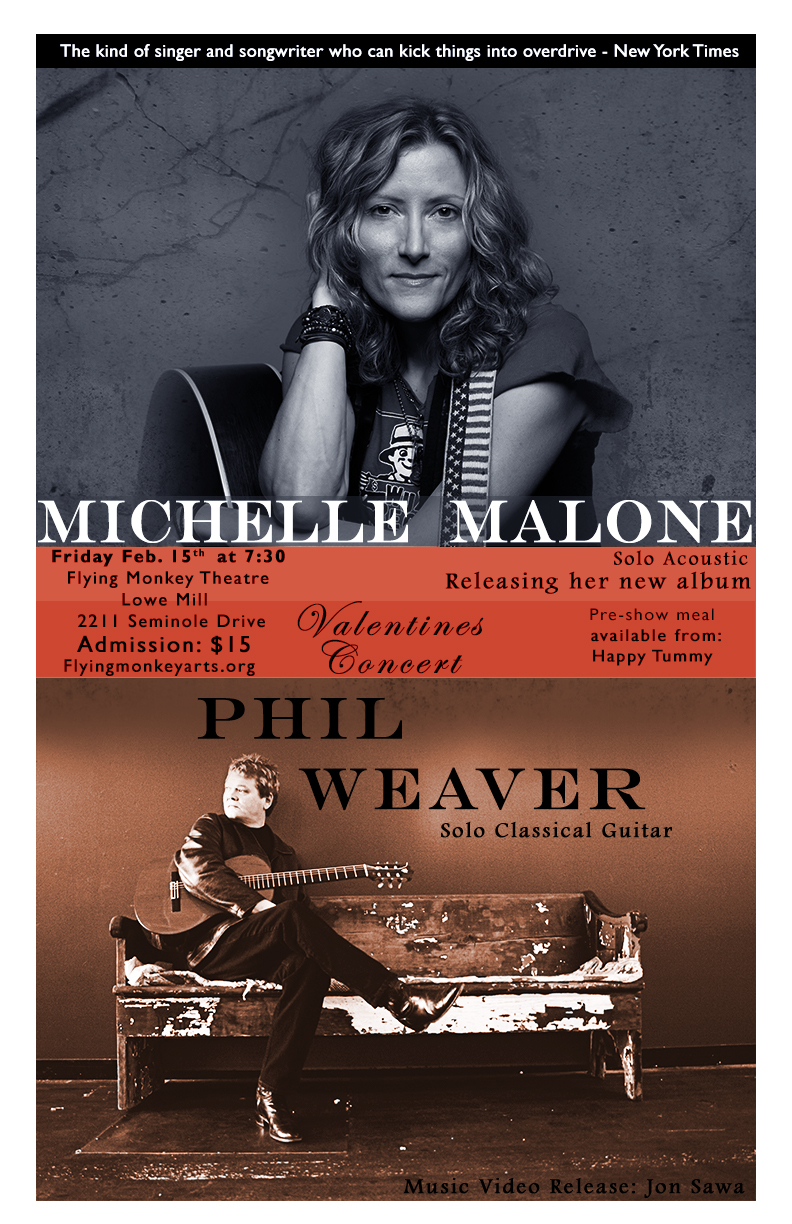 What do the cities Nazareth, Pennsylvania and Madrid, Spain have in common? They are the cities, respectively, that produced Michelle Malone's HD-28 C.F. Martin guitar and Phil Weaver's Jose Ramirez concert classical. On Friday, February 15th, 7:30pm at the Flying Monkey Theatre (2211 Seminole Dr. at Lowe Mill) you can hear both guitars in a listening room venue when these musicians perform a double-billed concert. This show has been a huge hit with audiences in the past, and this evening should prove no exception with the performers celebrating Valentines weekend, Michelle's Huntsville CD release of her latest studio album Day 2, and Phil's music video release Danza, a collaboration with filmmaker Jon Sawa. Phil will open with flamenco, tango, Latin American, and baroque guitar solos and Michelle, known for her slide guitar playing and signature soul-filled vocals will perform her solo acoustic show featuring songs from the new album. Admission the the concert is $15, a pre-show meal at Happy Tummy will be available. Further information is available at www.flyingmonkeyarts.org
Critically acclaimed singer-songwriter Michelle Malone has received rave reviews in Rolling Stone, The New York Times, Billboard, and Guitar Player. The songs from Day 2, her 11th studio album, were written at her own green kitchen table, coffee mug in hand, every morning for nearly a year. The album was produced by Shawn Mullins and a crew of exceptional musicians. Two of Michelle's earlier CD's were on the Grammy ballot and her songs have been recorded by the Indigo Girls and Hannah Thomas. Several have appeared on motion pictures and television.
Phil Weaver and Jon Sawa's music video Danza, set to be released the week of the concert, is Phil's performance of Costa Rican composer Edin Solis' guitar solo from Pasaje Abierto with footage shot in ten locations by Jon Sawa and his crew from Prototype Multimedia. This is also remarkable in that the filming was done after Phil's career threatening accident last year when he shattered his elbow and broke his wrist. At the central location, the Granary, Phil had to climb up and down to the site with a rope, with his guitar on his back.