Aaron Cain, Assistant Professor
Voice and Diction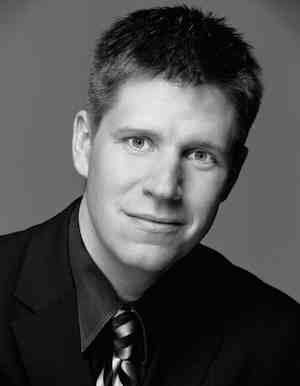 Dr. Aaron Cain performed and recorded with a variety of instrumental and vocal ensembles, most of which have made early music their focus. Groups with
whom he has performed as a soloist include the Los Angeles Philharmonic, Portland Baroque Orchestra and Ensemble VIII. He has also sung with the Los Angeles Master Chorale, Cappella Romana, Musica Angelica, the Cascade Consort, the Los Angeles Chamber Singers, Vox Resonat and the Berwick Chorus of the Oregon Bach Festival.
Aaron is also one of the members of The Concord Ensemble, a Los Angeles- based vocal ensemble which performs and records a variety of music ranging from medieval, renaissance, baroque and contemporary vocal works. The Concord Ensemble first gained international attention when it was awarded the grand prize in the 1998 Early Music America / Dorian Records Competition. Recently, Aaron appeared on recordings such as the Los Angeles Chamber Singers' Padilla: Sun of Justice, winner of the 2006 Grammy for Best Small Ensemble Performance, Cappella Romana's 2008 release, Toensing: Kontakion on the Nativity of Christ, and the 2011 Musik Ekklesia recording, The Vanishing Nordic Chorale.
Aaron holds a Bachelor's of Music in voice from The University of Iowa, where he studied with John Van Cura, Robert Eckert and Albert Gammon. More recently, he studied voice with Eric Mentzel at the University of Oregon, where he received a master's degree in choral conducting and a doctoral degree in vocal performance with a specialization in historical performance practice. As a vocal instructor, Dr. Cain has led choral workshops and solo vocal master classes across the country. In addition to maintaining a private voice studio in Eugene, Oregon, he is currently an adjunct professor of voice at Umpqua Community College.
Hired: 2013
Credentials
DMA, University of Oregon
BM, University of Iowa
Research/Creative Activity
Baroque Performance Practice

Email: aaron.cain@uah.edu
Phone: 256-824-6534