Jim Cavendar, Instructor
Jazz Combo, Jazz Guitar, Jazz Bass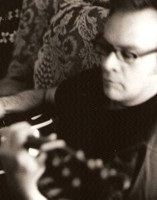 Jim Cavender teaches guitar and bass and directs two jazz combo classes at UAH. He has performed with rock 'n' roll legend Bo Diddley, soul great Percy Sledge and salsa star Chocolate Armenteros, and has studied with the late r&b session guitarists Tippy Armstrong and Eddie "Spanky" Alford as well as current Berklee College of Music faculty Rick Peckham and Bruce Saunders. In August he worked at Berklee Summer Guitar Sessions 2009.
Cavender has produced or co-produced recordings in various genres since 1986 including The Jungle by The Jungle (jazz), It Creeps Up On You by Swine Cadillac (blues), Move To The City by Then Again (rock), Brothers by Ken and Harry Watters (jazz), The Snake Doctors by The Snake Doctors (rhythm and blues),Black Boots And A Suitcase by Joshua Black Wilkins (rockabilly), Along The Anchorline by Skip Heller (jazz), Halloween On Union Avenue and Elephants In The Crosswalk by Rolling Jazz Revue (jazz), O Christmas Tree-O by Keith Taylor Trio (jazz).
Jim continues to perform solo and in various bands in the Huntsville area including Rolling Jazz Revue (jazz), Trio El Camino (jazz-rock organ combo), Keith Taylor Trio (jazz), The Lost Troubadours From The Ford Galaxie (honky-tonk country), Mambo Gris Gris (Latin/Carribean) and The Snake Doctors (rock, rhythm and blues).
Hired: 1999
Credentials
Bachelor of Science – University of North Texas
Research/Creative Activity

Email:
thecavenders@knology.net

Phone:
256-824-6436