UAHuntsville Real Men Sing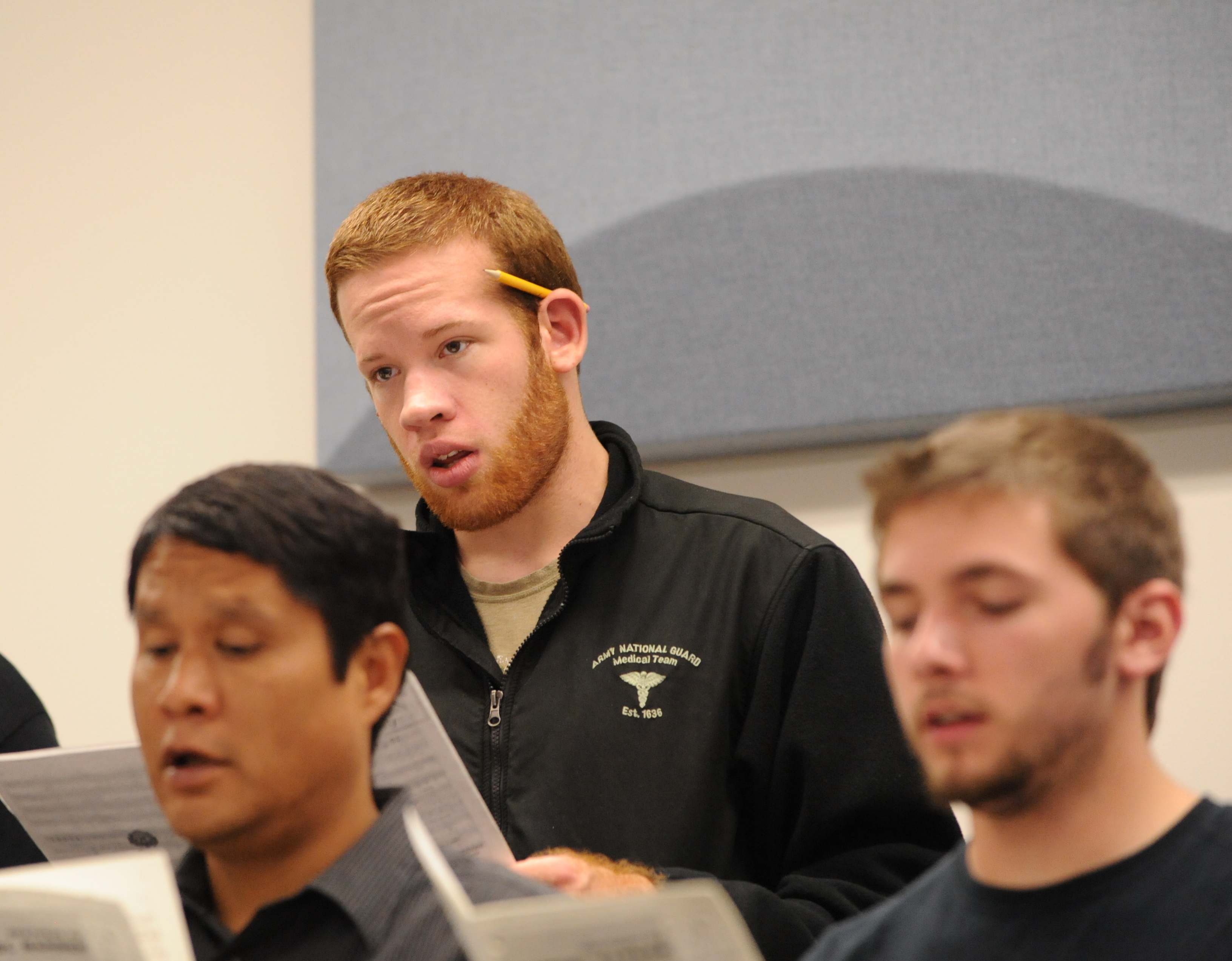 What is Real Men Sing?
UAHuntsville wants men come together and find the joy and richness that singing brings to life, particularly the joy and richness that singing in an all-male chorus can bring to life. Through this, we hope to help attract and retain male singers of ALL ages to choral ensembles, and help them to remain strong and vibrant. To accomplish this, we invite all men from Alabama to join us for the first-ever UAHuntsville
Real Men Sing
Choral event.
Participating schools, churches and community choruses are not limited to bringing only their "best" students. They can bring one, four, or all of their male singers to this event. REAL MEN SING provides the opportunity to work under some of the very best choral directors in the state, as well as sing beside the men of the Luther College Nordic Choir. (They will also be headlining our concert for the evening.)
Event Details:
Date: February 1, 2013
Register using the form at the bottom of this page by January 22, 2013.
Clinician: Mr. Bryan Page
Cost of Clinic: $35 per participant (includes 2 meals and a commemorative t-shirt)
Location of Clinic: Roberts Recital Hall and Asbury United Methodist Church
Music for Clinic: Is available HERE for your advance preparation.
Contact: Dr. Erin Colwitz
Clinic Schedule:
Friday, February 1, 2013
9:00 AM Registration (UAH)
9:30 AM Rehearsal #1 (UAH)
12:00 PM Lunch (included)
1:00 PM Rehearsal #2 (UAH)
3:00 PM Break
3:30 PM Rehearsal #3 (UAH)
5:00 PM Dinner (included)
6:30 PM Performance Call (Asbury UMC)
7:30 PM Performance with Luther College Nordic Choir (Asbury UMC)
Clinic Information:
Location:
Registration for the clinic and all rehearsals will take place in the Roberts Recital Hall on the UAH Campus. Ample parking is available in the parking lot across from Roberts Hall. Look for signs directing you to the "UAHuntsville Music Event." The evening performance with occur at Asbury Unted Methodist Church in Madison, AL.
Driving Directions:
To UAH Roberts Recital Hall, click here.
To Asbury UMC, click here.
Registration:
Registration will be located in the entryway of Roberts Hall, whereupon you will receive a packet of information for the clinic, a nametag which you should wear during your stay on campus, and where you will pay the $35 clinic fee with either cash or check (made payable to UAH Student ACDA Chapter).
General Meeting and Auditions:
A general meeting of everyone in the clinic will begin at 9:30 AM in the Roberts Recital Hall.
Meals:
On Friday, both lunch and dinner are provided on campus at no additional charge to you. Your nametag will serve as your admission to both meals, catered by UAH for your safety and convenience.
The Concert Performance:
The concert performance will take place at Asbury United Methodist Church in Madison, AL. CD and DVD recordings of the concert will be available from Tim Batt Recordings immediately before and after the concert in the lobby of the Center for the Arts.
Concert Attire:
Dress for the concert is formal black, tuxedos for gentlemen.
Parents:
Parents are welcome to attend any of the rehearsals and of course the performance.
Absenteeism:
Clearly, participating students have been specially selected for this clinic. Any last minute no-shows will compromise the integrity of the clinic as well as reflect poorly on you and your institution.