Dr. Nicole Pacino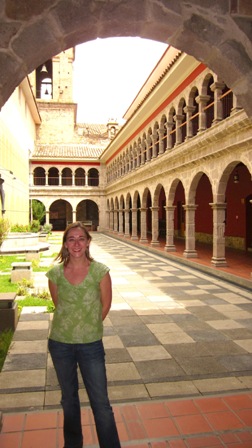 Assistant Professor of History
Roberts Hall 410
824-2568
Nicole.Pacino@uah.edu
Areas of Specialty
Latin America
History of Science and Medicine
Race and Gender
Revolutions and Social Movements
Food Studies
Nicole is a native of St. Louis, Missouri and completed a B.A. at DePauw University before heading to California with no job, place to live, or any idea of what she was getting into. After ten years and a few odd jobs in California Nicole earned a M.A. in Latin American and Iberian Studies and a Ph.D. in Latin American history from the University of California, Santa Barbara. Her tour of the United States now brings her to the south, where she is thrilled to join the UAH history faculty.
Nicole's research interests include the history of medicine and public health, indigenous and gender history, and revolutions and social movements. After working in Ecuador for several years with anti-copper mining activists, her studies led her to a new topic, time period, and country. Nicole's dissertation examined the extension of public health programs to the Bolivian countryside under the National Revolutionary Movement, which held power from 1952 to 1964. Her next research project will be a social and cultural history of quinoa in the Andean region, which is hopefully as delicious to research as it is to eat.
At UAH Nicole teaches survey classes of world and Latin American history. She will also offer upper division classes on gender, Latin American film, globalization, and food history.
When not trying to convert UAH students to history majors, Nicole enjoys gardening, cooking, and exploring the outdoors with her husband Tim and two energetic dogs. She is also an avid traveler, and aims to set foot on all seven continents in her lifetime (she has currently been to four of them).