Dr. Molly Johnson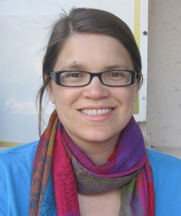 Associate Professor of History
415 Roberts Hall
(256) 824-2566
johnsomw@uah.edu
Areas of Specialty
19th-and 20th-Century Europe
Women's History
Modern Germany
Born and raised in Barboursville, West Virginia, Molly studied as an undergraduate at Wittenberg University in Springfield, OH, where she majored in history and in German. She then completed her M.A. and Ph.D. degrees in German and European history at the University of Illinois, Urbana-Champaign.
Molly's teaching interests include nineteenth- and twentieth-century German and European history, European women's history, methods and historiography, and world history. She has introduced four new courses at UAH, "Historical Methods," required for undergraduate history majors, "Women in Modern European History," a 300-level discussion-based course, and two undergraduate/graduate seminars, "Nazi Germany and the Holocaust" and "Europe during the Cold War."
Building upon involvement in the Women's Studies Program over the last eight years, including giving guest lectures in "Introduction to Women's Studies" and serving on the Women's Studies Program Advisory Committee, Molly is now in the middle of a four-year term as Director of Women's Studies.
Molly has also been active in the Global Studies Program at UAH. During Summer 2006, Molly took UAH students to Berlin, Germany, as part of a class entitled "Berlin: Crossroads of the Twentieth Century." In Spring 2008 and Spring 2010, she took a second and third group of UAH students to Germany for a course on "Munich, Nuremberg, Berlin: Legacies of the Third Reich."
Molly's first book, Training Socialist Citizens: Sports and the State in East Germany, was published in Fall 2008 by Brill Academic Publishers. This book explores the political, social, and cultural role of sports in communist East Germany. Her new research examines protest culture and "green" politics in West Germany from the 1960s to the 1990s. In her free time, Molly enjoys swimming and biking, knitting, reading novels, cooking, and chasing around a seven-year-old dog, Remy, and three-year-old child, Thomas, as well as caring for a baby, Leah, together with her husband Dave, Director of Global Studies at UAH