Dr. Andrew Dunar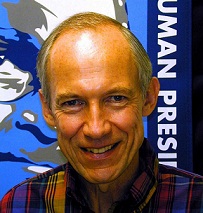 Professor of History
409 Roberts Hall
(256) 824-6312
Dunara@uah.edu
Areas of Specialty
20th Century U. S.
U.S. Diplomatic
Oral History
Professor Andrew Dunar received his B.A. from Northwestern University, his M.A. from UCLA, and his Ph.D. from the University of Southern California. He teaches courses in twentieth century American history and American foreign relations.
He is currently involved in two major research projects. The first is an oral history of The Farm, an intentional community in Summertown, Tennessee begun in the early seventies by a group of hippies that originated in the San Francisco Bay Area, and which is still thriving today. His other project is a biographical study of Harry S. Truman's post-presidency.
He enjoys running, biking, reading and traveling. He and his wife Cathie have two sons (Jamie and Michael) and a daughter (Kimberly).
Publications:
The Truman Scandals and the Politics of Morality. Columbia: University of Missouri Press, 1984; paperback edition 1997.
Dunar and Dennis McBride. Building Hoover Dam: An Oral History of the Great Depression. New York: Twayne, 1993; Reno: University of Nevada Press, 2001.
Dunar and Stephen P. Waring. Power to Explore: A History of Marshall Space Flight Center 1960-1990. Washington, DC: NASA SP-4313, 1999. Winner of the 2001 American Association of Aeronautics and Astronautics History Manuscript Award.
America in the Fifties. Syracuse, New York: Syracuse University Press, 2006.