Why Study German?
Our university and the greater Huntsville community have historically enjoyed fruitful exchanges and relationships with people and institutions from German-speaking Europe. The German rocket science team of Dr. Wernher von Braun was instrumental in the growth of Huntsville as a center of high technology and its supporting industry. Currently, UAHuntsville is collaborating with the German Aerospace Center (DLR) and the University of Rostock to offer a Joint Space Weather Summer Camp.
Germany excels in cutting-edge fields such as biotechnology, nanotechnology, aerospace, and environmental technology. It is also a leader in climate protection and the development of renewable energy sources, such as wind power and solar energy. Historically, Germany is credited with the invention or development of technologies that have changed the world, for instance the bicycle, the light bulb, the telephone, automobile and jet engines, aspirin, television, and computer and information technology (scanner, chipcard, MP3). (Source: Facts about Germany, ed. Peter Hintereder, Frankfurt/Main: Societäts-Verlag—Berlin: Federal Foreign Office, 2010).
But most importantly, German, spoken in Austria, Germany, Liechtenstein, Switzerland, and many parts of Europe, was and is the language of one of the world's most distinguished cultural traditions. People everywhere enjoy the poetry of Johann Wolfgang Goethe, Friedrich Schiller and Friedrich Hölderlin, read the novels of Franz Kafka, Günter Grass, and Thomas Bernhard, and watch the plays of Bertolt Brecht, Heiner Müller, and Elfriede Jelinek. Composers like J.B. Bach, Wolfgang Amadeus Mozart, Ludwig van Beethoven, Richard Wagner, Gustav Mahler, Arnold Schönberg, and many others have inspired generations of classical music listeners. Artists like Albrecht Dürer and Matthias Grünewald, Caspar David Friedrich, Ernst Ludwig Kirchner, and George Grosz, Anselm Kiefer and Jörg Immendorff have had a lasting influence on our aesthetic sensibility. German film is legendary: think of Metropolis, Run Lola Run, or Good Bye, Lenin. German architecture spans an exciting spectrum from the Cologne Cathedral and Schloss Neuschwanstein to the boldly postmodern achievements of the Reichstag and the new Chancellery in the capital of Berlin. And the alternative music scene would be unthinkable without the popular success of the industrial metal band Rammstein, the punk band Tote Hosen, and many others.
Proud of its rich traditional heritage while critically interrogating the darkest political chapters of its past—the Holocaust, World War II, the division into former East and West Germany—post-reunification Germany and its neighbors Austria, Liechtenstein, and Switzerland form a network of vibrant societies that embrace multicultural pluralism, cosmopolitan openness in a global world, and international collaboration in politics, the economy, and technology.
Viel Vergnügen beim Deutschstudium an der University of Alabama in Huntsville!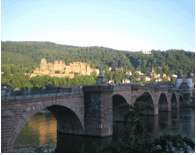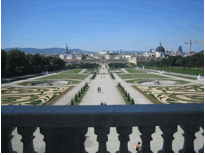 Illustrations: Copyright Rolf J. Goebel, 2005, 2006, 2007