Student Council for Exceptional Children

The Student Council for Exceptional Children was chartered in the spring of 2002. The mission of the SCEC correlates to that of the national Council for Exceptional Children: improving educational outcomes for individuals with diverse learning needs. It is supported by the belief that quality education is a collaborative effort and therefore open to all education students who advocate equitable access to and meaningful participation in quality educational opportunities for all students.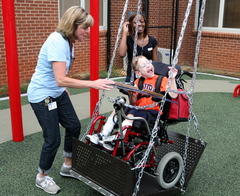 Members of the UAH chapter of the SCEC participated in a number of fundraising activities during the year. Last year students supported the Madison City School system's Special Education Spring Fling and participated in the Autism Walk - an annual community event. Several members attended the International Council for Exceptional Children convention in Nashville, Tennessee in 2010 and National Harbor, Maryland in 2011. Plans are already underway to attend the national conference next year.