Accreditation
ACCREDITATION AND ENDORSEMENTS
---
The University of Alabama in Huntsville is accredited by the Commission on Colleges of the Southern Association of Colleges and Schools Commission on Colleges (SACSCOC) to award bachelor's and master's degrees in Education. Contact the Commission on Colleges at 1866 Southern Lane, Decatur, Georgia 30033-4097 or call 404-679-4500 for questions about the accreditation of the University of Alabama in Huntsville.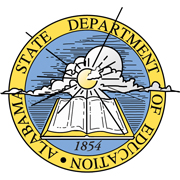 All teacher certification programs are approved by the Alabama State Department of Education (ALSDE).
All teacher certification programs are accredited by The National Council for Accreditation of Teacher Education (NCATE). This accreditation covers initial teacher preparation programs and advanced educator preparation programs. NCATE is recognized by the U.S. Department of Education and the Council for Higher Education Accreditation to accredit programs for the preparation of teachers and other professional school personnel. NCATE is currently collaborating with TEAC (Teacher Education Accreditation Council) and to form a new unified accrediting body called The Council for Accreditation of Educator Programs (CAEP). The new agency will become fully functional January 1, 2013. For more information on the transition go to the NCATE website.