Mission and Vision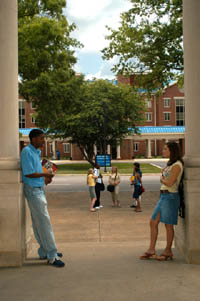 The humanities and liberal arts, which include the study of history, literature, philosophy, languages, social sciences, and the fine arts, are the heart of the core curriculum for each student at UAH. They also comprise an important component in the university-wide honors program. Those with substantial liberal arts exposure will have the advantage over people with narrow training whose careers fall victim to technological change. Studies have shown that liberal-arts graduates move up managerial ranks as fast or even faster than those trained in more narrowly specialized fields.
The fine arts bring pleasure and perspective to our lives. The music program takes students to the frontier of creativity with an extensive computer laboratory, in addition to, traditional performance opportunities. In today's trans-national and multicultural business world, programs in foreign languages provide the opportunity for students to study and assimilate the languages and cultures of countries they may be residing in or interacting with in their future business, political, scientific, or educational careers. Political science fosters the cultivation of skills in reasoning, synthesis of complex information, decision-making, and oral and written communication, as students are trained to think clearly, critically, and analytically. Philosophy helps students uncover the assumptions that underlie the opinions they hold and the questions they ask and subjects those assumptions to a critical scrutiny. Communication Arts students gain practical, critical, historical, and theoretical perspectives on human communication, preparing them for work, for social life, and for further academic studies.
Undergraduate study in the College of Liberal Arts brings together faculty and students in an exciting atmosphere of creative learning. Within the framework of the requirements established by the Department and the College of Liberal Arts, students design, in consultation with a faculty advisor, a bachelor's degree program of study fitted to their particular interests and needs.
Please explore further to see what our college has to offer you not only academically, but financially and socially as well.