IFloods in the News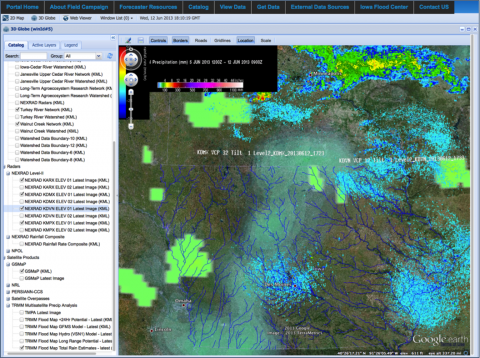 On Tuesday, June 11, 2013, there was a video chat on the IFloodS field campaign including PI Walt Petersen. See this link to view a playback of the 1hr video chat: http://spaceref.com/earth/nasas-iowa-flood-study-hangout.html
Dr. Walt Petersen leads the Field Support Office at NASA GSFC's Wallops Flight Facility and oversees the Wallops Precipitation Research Facility. He is the NASA GPM Ground Validation Science Manager, serves as Lead Scientist on the GPM-GV field campaigns, including IFloodS, which is going on now.
GHRC is supporting IFloodS with a collaboration portal for sharing weather forecasts, instrument status, mission science reports and plans of the day, as well as real-time data acquisition and visualization tools. We are the data archive for all the GPM GV field campaigns.
GHRC is a partnership between NASA MSFC and UAH ITSC.