Honors College Ambassadors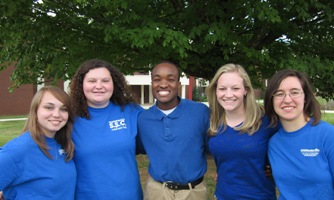 Honors College Ambassadors represent/promote the Honors

College
to prospective students, parents, and others
. Honors College Ambassadors attend events such as Honors College Meet and Greets, UAH Open Houses, Honors student activities and Freshmen Orientations. They also assist with Honors Convocation and the Alabama System Honors Research Conferences.
Honors College Ambassadors play an important role in increasing awareness of the Honors
College
on campus, as well as building an Honors community presence. Ambassadors work closely with the Honors Office, the Honors College Student Assembly, as well as other departments/colleges on campus to help spread the word about the benefits of being an Honors student and how Honors enriches the UAH campus. Each Ambassador brings a different experience and perspective to the group and were chosen on the basis of GPA, involvement in the College and a short interview with the Honors Office.
Our 2013-2014 Honors Ambassadors are:
For more information, contact the Honors Office at 256-824-6450, send an email to honors@uah.edu or stop by Morton Hall 336.