Honors Ambassadors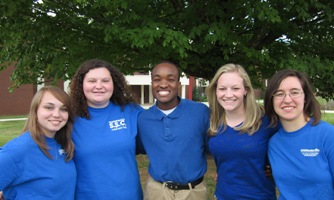 We have found 5 outstanding Honors student leaders who will serve as Honors Ambassadors and represent/promote the Honors Program
to prospective students, parents, and others
. Honors Ambassadors will attend events such as Honors Recruitment Days, UAH Open Houses, Honors student activities and Freshmen Orientations. They will also assist with Honors Convocation and the Alabama System Honors Research Conference being held at UAHuntsville in April 2013.
Honors Ambassadors will play an important role in increasing awareness of the Honors Program on campus, as well as building an Honors community presence. Honors Ambassadors will work closely with the Honors Office, the Honors Program Student Council as well as other departments/colleges on campus to help spread the word about the benefits of being an Honors student and how Honors enriches the UAH campus. Each Ambassador brings a different experience and perspective to the program and were chosen on the basis of GPA, involvement in the program and a short interview with the Honors Office.
Our new 2012-2013 Honors Ambassadors are:
Below is what we look for in a potential Honors Ambassador. Ambassadors will be chosen on a yearly basis.
Required:
Accepted to the Honors Program
Must have completed 2 full semesters in the Honors Program

GPA of 3.25 or better

Cannot be an Honors Program Student Council officer
Desired Qualities:
Knowledge about the Honors Program (requirements, curriculum, and student events)
Display great communication skills
Comfortable in large groups and around new people
Selection process:
Complete Ambassadors application form on Honors website

Brief interview with Honors Director, Coordinator and member of the University Honors Council
For more information, contact the Honors Office at 256-824-6450, send an email to honors@uah.edu or stop by Morton Hall 336.