The Honors College offers a specialized Honors upper-level curriculum for College of Nursing students. Honors students in Nursing have the option of completing the full 24 hour Honors Diploma or a 12 hour Honors Certificate. Benefits of pursuing an Honors Diploma or Certificate in Nursing include:
Participation in nursing research and contribute to nursing science

Opportunity to develop a clinical focus/cognate

Graduating with your thesis title printed in the commencement program

Positioning yourself competitively with future employers

Gain readiness for masters and/or doctoral program

Build a future in nursing research or nursing education

Eligibility to live in Honors Residence Hall

Developing friends through campus-wide honors activities

Service and leadership opportunities
You can find the Honors Advisement worksheets for Nursing majors can be found here. The specialized Honors Nursing courses are:
NUR 307 is an honors section which prepares the Nursing Honors student to select a research topic, develop a research question and secure a relationship with a nurse researcher who will serve as a research adviser. This course is taught in a seminar format.
NUR415, Honors Directed Research. The focus is on the development of a research methodology, securing Institutional Review Board approval if necessary and beginning data collection and preliminary data analysis. The seminar format will provide student access to expert researchers.
NUR407 is an Honors section which guides the student through data collection, data analysis, result development and thesis completion. Dissemination of results in a public setting is a priority goal for students taking this course.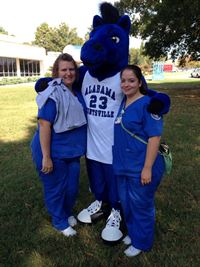 For more information, please contact Beth Wilson, Honors College Coordinator, at Bethany.Wilson@uah.edu or Dr. Ellise Adams, Honors College Director in Nursing, at Ellise.Adams@uah.edu.