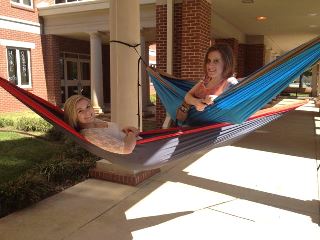 Living in Honors Housing in Frank Franz Hall is a great way to interact with other Honors students and get involved in the Honors College community! Students in the Honors community will engage fellow Honors students in specialized classes, gain additional access to campus resources and enjoy opportunities to seek mentorship from upper-class students, faculty and professionals in their fields of interest.
Honors College Community Benefits:
Live in close proximity to classes and campus resources

Make new friends with similar interests and goals

Learn success skills and strategies

Gain knowledge about major and career options

Connect with upper-class Honors Mentors in the Honors College

Easily form study groups with other Honors students

Develop meaningful connections with faculty and staff

Access to space for studying, activities and meetings
For more information, visit the University Housing website at www.uah.edu/housing.