Honors Lecture: Frederick I. Ordway, III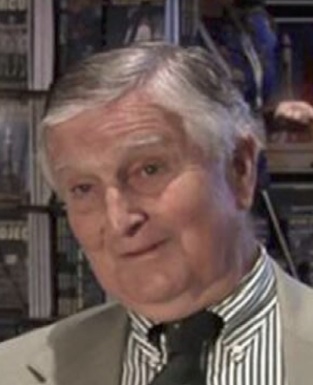 Dr. Frederick I. Ordway, III
Thursday. March 6, 2014 from
11:10 am - 12:15 pm
Shelby Center 107, UAH campus
Open to the public.
For a general audience.
Dr. Fred Ordway will speak on 2001: A Space Odyssey'--From the Early Days to Worldwide Acclaim on Thursday, March 6, 2014 at 11:10 in Shelby Center 107. This lecture is free and open to the public. Dr. Ordway is a true space pioneer, and his lecture promises to be enjoyable and exciting!
Ordway describes his talk this way: "We'll get started by showing two films: 2001: A Space Odyssey: A look Beyond the Future is on the making of the film shot at the MGM British Studios at Borehamwood, north of London, with speaking parts by Arthur C. Clarke, Keir Dullea, Harry Lange, and Fred Ordway. Director Stanley Kubrick and others are seen in many shots. Next, we'll view a short film 2001: Yesterday's Future'produced by TCM (Turner Classic Movies) In this film Arthur C. Clarke and I appear with Tom Crouch, senior curator at the National Air and Space Museum where the TCM documentary was made, and Astronaut Joe Allen. Then I'll come on live with my PowerPoint presentation of daily activities and personalities at the studios, with details on how we got started and how I became involved virtually from the beginning."
Early in his childhood, Ordway became interested in lunar and planetary astronomy, rocketry and spaceflight. In a letter to his parents dated 29 March 1938, he begged for the book 'Lost on the Moon' by Roy Rockwood for his upcoming 11th birthday, noting that he had already enjoyed works on other worlds. He soon started collecting science-fiction magazines and by 13 became a student member of the American Rocket Society. He is still active in the successor AIAA.
Ordway was brought up in New York and Saco/Bay View, Maine. In the City, he attended Trinity School founded in 1709, and in 1949 graduated from Harvard University in Cambridge, Mass. where he studied geosciences, lunar and planetary astronomy, chemistry, math and other subjects. Two years graduate work followed at the University of Paris' Faculty of Science where he focused on geosciences and physics of the upper atmosphere. During vacation breaks, he took courses at the Universities of Innsbruck, Barcelona and Algiers. Later, he was awarded a PhD h.c. in the space sciences by The University of Alabama in Huntsville.
He started his career in the geosciences in Venezuela, first at the Mene Grande Oil Company (Gulf Oil subsidiary) and then the Orinoco Mining Company (U.S. Steel subsidiary) His aerospace career kicked off at the pioneering rocket-engine company Reaction Motors, Inc. followed by Republic Aviation's Guided Missiles Division. From there, he and his family moved to Huntsville, Alabama where he joined the von Braun 'rocket team' at the Army Ballistic Missile Agency on Redstone Arsenal. In mid-1960, he and his teammates transferred from ABMA to the new NASA-George C. Marshall Space Flight Center. President Dwight D. Eisenhower, accompanied by widowed Mrs. Marshall, inaugurated the facility naming Dr.Wernher von Braun as Director.
As the Apollo lunar program ended, Ordway was appointed research professor at The University of Alabama in Huntsville's School of Graduate Studies and Research. In 1975, he joined the new Energy Research and Development Administration in the Office of Administrator Dr. Robert C. Seamans, Jr., who was the NASA Apollo-years Deputy Administrator. Working with Seamans was exciting, so much so that Ordway continued in energy research and development until retirement two decades later. By then, ERDA had expanded to become the U.S. Department of Energy.
At one point in his career, Ordway served as technical advisor to the film '2001: A Space Odyssey,' closely involved with director Stanley Kubrick and author Arthur C. Clarke. Work got started in New York and later expanded impressively at the MGM British Studios, Borehamwood, England north of London. Ordway is the author, coauthor or editor of 35 books and his more than 300 articles have appeared as chapters in books, essays in encyclopedias, and contributions to professional journals and popular magazines. He has lectured in every continent including Antarctica where he was a 1970-austral-summer member of the U.S. Antarctic Research Program working from bases at McMurdo, the South Pole and other sites. He is a member of professional organizations.
Ordway's large collection of space art, rare books, prints and artifacts toured the United States and abroad as 'Blueprint for Space' and 'Shaping the Vision' with images appearing in his books 'Blueprint for Space' (1992) and 'Visions of Spaceflight: Images from the Ordway Collection' (2001). He has received multiple awards—in France, Germany, Great Britain, the Soviet Union, United States, etc. His biography appears in 'Who'sWho in America,''Who'sWho in the World,' and numerous other sources.
This event is sponsored by the Honors College. Find out more about the Honors Lecture Series.