Amit Patel: Honors Student in the Spotlight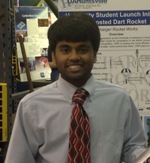 Amit Patel
Senior
Major: Mechanical and Aerospace Engineering
From: Florence, AL
Our current Honors student in the spotlight is Amit Patel. Amit is one of 22 seniors graduating from the Honors Program this academic year.
Where did you attend high school and what activities were you involved in?
I am from Florence, AL and I attended Florence High School. While at Florence High, I was selected to serve as the president of our SkillsUSA organization. Along with this, I was also the Scholar's Bowl Team Captain and a Teacher's Assistant for the school's Electronics course. Something that added to my high school experience was the Early Scholar program that Florence High offered. I got a taste of the college life at the University of North Alabama when I was a junior.
What's your class/major here at UAHuntsville and what are your future career goals?
I'm a senior majoring in Mechanical and Aerospace engineering. After graduation, my plans are to attend graduate school at UAHuntsville on my way to getting a PhD.
What do you ultimately see yourself doing career-wise?
I see myself being involved in many research projects throughout my life. It would be awesome to invent something new that could solve a current engineering problem.
Eventually, I would like to see myself in a management role at a defense or Aerospace company.
What else are you involved in at UAH?
I am currently a Research Assistant at the UAHuntsville Propulsion Research Center. Here, I assist graduate students and Principal Engineers with their research, in addition to conducting some of my own. The work is very demanding, but totally worth it when things explode (on purpose). I am also the Program Manager for the 2012-2013 University Student Launch Initiative Team. So far, the team is fighting for a top spot in the NASA Student Launch Projects competition against 40 other universities.
Along with my classes, I also like to build rockets. It is a great feeling to build something and have it head for the
stars. When I'm not building rockets or blowing things up at work (on purpose), I'm playing chess with friends or
participating in sports.
What are your thoughts on the Honors Program? How has it impacted your time here at UAHuntsville?
The Honors Program here at UAHuntsville has definitely challenged me with more demanding coursework. Along with
keeping my work ethic polished, I have met a lot of awesome people. The Honors Program provides us with the
opportunity to showcase our work and it does a great job recognizing our excellence. It definitely is an amazing
experience and has been important in shaping my college career. I feel like Dr. Harry Delugach and Ms. Beth Wilson
deserve credit for making the Honors Program what it is today.