Dr. Rolf Goebel: Honors Faculty Spotlight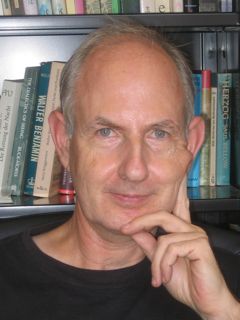 Dr. Rolf Goebel
Professor and Chair, Foreign Languages and Literatures
This month we're recognizing Dr. Rolf Goebel as our Honors faculty member in the spotlight. Dr. Goebel is a longtime supporter and participant in Honors College activities. We asked him some questions about himself and his involvement in the Honors College.
What is your current position at UAH?
I am a Professor of German and Chair of the Dept. of Foreign Languages and Literatures.
What's your background?
I hold the equivalent of a B.A. in German and English from Kiel University, Germany, a Master of Arts in English from Brown University, and a Ph.D. in German Literature from the University of Maryland, College Park. My academic field is German language, literature, and culture. Currently, I am working on a subject called "media transposition," which focusses on the interactions of media technologies and the processes of transferring a given subject matter or content from one medium to another. For instance, I am looking into the ways in which sound and music interacts with literature and visual media.
How long have you been at UAH?
I came here as an Assistant Professor in 1982.
What's been your involvement in the Honors College and what do you like about it?
I have given several interdisciplinary seminars in the Honors College, for instance, on the representation of the modern metropolis in literature and film. I also enjoy giving talks in the Honors' Lecture Series. What I like especially in the Honors College is the opportunity to present new results from my interdisciplinary research to a wide range of students from all kinds of majors. Coming from the sciences, engineering, nursing, business, as well as liberal arts, they bring diverse perspectives, expectations, and values into the discussion, which urge me to translate my ideas -- explain, justify, modify them -- into the different horizons of their lives. This kind of pedagogical translation helps me to identify gaps, contradictions, and half-baked thoughts in my own work, which need to be rethought and revised, if necessary. I am also very impressed about the critical insights offered in the Honors students' written responses to my lectures -- they definitely know how to think in interdisciplinary ways!
What do you think is a strength of the Honors College?
Perhaps the most important strength is the College's ability to provide an academic forum and social gathering site for an open-minded, intellectually stimulating exploration of a wide range of subjects matters -- some of which are necessarily controversial but need to be addressed in today's society. In today's world, when academic disciplines are all too often urged to cater to narrowly defined professional careers, social needs, and pragmatic purposes, the Honors College can help us to defend the irreducible autonomy of intellectual pursuits, the critical independence of scholarship/teaching, and the integrity of academic freedom.
What would you like to change about the Honors College?
Give it more financial funding to invite more prominent guest speakers, organize more public colloquia, and sponsor more field trips to cultural events, such as concerts, theatre productions, and so forth.
Tell us a thing or two about yourself that is unrelated to school.
I am also a classical organist, giving at least one public recital a year and playing for local weddings. Whereas my academic interests begin with literature around 1800 and concentrate on German modernism, my music performance interest centers on the 16th-mid 18th century repertoire, although I do love to listen to later composers, most notably Richard Wagner. Music in extremely important in my personal life because its sonic language appeals intuitively to my (and hopefully my audience's) emotions and passions in ways that are very different from the more intellectual explorations of cultural theories that occupy me in my university life. Music has an uplifting and even redemptive power that temporarily lifts us out of what often appears to be the overwhelming misery of our daily lives, similar to literature's capability to provide an alternative of profound meaning to the banality and conventions that often govern our ordinary discourse. I am unapologetically an aesthete at heart, approaching the world primarily, although not exclusively, from the perspective of beauty, and thus my literary and musical sensibilities, although very different, complement and supplement one another.