Honors Lecture Series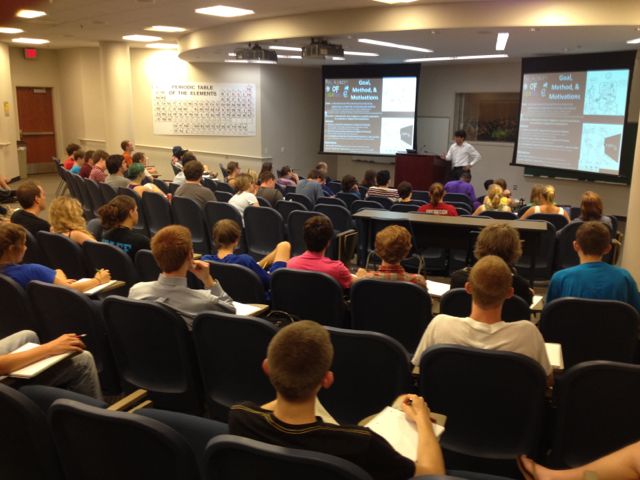 Free

Open to the public.
For a general audience.
If you're a student enrolled in the Honors Lecture Series course (HON 100), log on to ANGEL for your course materials.
If you're interested in presenting an Honors Lecture, please ask! See below for the Current Semester schedule. (See Previous Lecture Series Schedules for ideas.) To volunteer, contact the Honors Office at honors@uah.edu.
Honors Lecture Schedule - Fall Semester 2014
Thursday 11:10 - 12:20
Shelby Center Rm 107 unless otherwise shown.
Presenters are from the Univ. of Alabama in Huntsville unless otherwise shown.
| | | |
| --- | --- | --- |
| Date | Topic | Location |
| | Dr. William Wilkerson, Dean of the Honors College, Introduction to Lecture Series | |
| | Dr. John Kvatch, History Department | |
| | Dr. Harry Delugach, Computer Science Department, Where Does Energy Come From? | |
| | Reserved for Office of Multicultural Affairs | |
| | Dr. Sundar Christopher, Dean, College of Science, Why you should be engaged in research activities at UAH. A College of Science perspective. | SC 107 |
| | Katharina van Santen, Centers for Disease Control | |
| | Dr. Rolf Goebel, Foreign Languages and Literatures, Surround Sound: Music as a Medium of Experience in Personal Encounters | |
| | NO LECTURE - FALL BREAK | |
| | Dr. Eric Smith, Associate Professor of English and Director of the Humanities Center, Valences of Utopia in Suzanne Collins's The Hunger Games Trilogy | SC 107 |
| | open | |
| | open | |
| | Reserved for Office of Multicultural Affairs | SC 107 |
| | Honors Research Showcase: Honors students present their Honors Theses | |
| | Honors Research Showcase: Honors students present their Honors Theses. | SC 107 |
| | NO LECTURE - Thanksgiving | |
| | Discussion and Course Evaluation | |
---
---