Advisement in the Honors Program
A student in the Honors Program may pursue any major in any college. It is important for students to get accurate and timely information on a regular basis as they pursue their Honors courses. The Honors Office is the best source of information about the overall program, but we rely on many faculty and staff members to provide complete advice with respect to individual majors, programs and degrees.
Students may meet for Honors advisement at any time. Contact the Honors Office to make an appointment.
Student Advisement
Students in the Honors Program should seek Honors advisement as soon as they have been admitted and are on the campus. There are several ways to get advice about the program.
Freshmen Orientation - Freshmen orientation is required for all first time students. The Honors Program holds an information/advisement session during orientation. You're highly encouraged to attend one of these Honors sessions. You do not have to pre-register for the Honors session atorientation. Please check your orientation schedule for location and time.
Honors Advisement - Honors students are required to meet with the Honors Office once per academic year for Honors advisement. You may be contacted in various ways by the Honors Office, or you may schedule a meeting on your own. It should not take more than 20 or 30 minutes. The advisement schedule is as follows:

Freshmen/Seniors - Fall advisement before Spring registration
Sophomores/Juniors - Spring advisement before Summer/Fall registration

College advisors can help you fit Honors courses into your schedule. Be sure to let them know you're an Honors student! If you need to verify your Honors status, please contact the Honors Office.
| | |
| --- | --- |
| Business Administration Course List | PDF |
| Engineering Course List | PDF |
| Liberal Arts Course List | PDF |
| Nursing Course List | PDF |
| Nursing (RN to BSN) List | PDF |
| Science Course List | PDF |
| General College Course List | PDF |
Stay in touch! The best way to complete the Honors Program is to keep in touch with the Honors Office. Notices are sent via email, Angel (course management system), our Facebook group, etc.
Fitting Honors into your course of study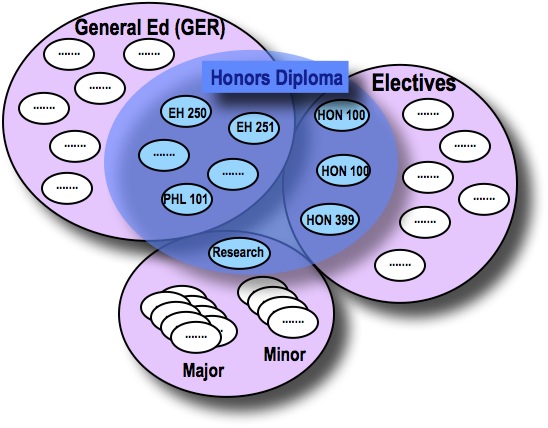 Completing the Honors curriculum should not require you to take additional courses. Honors requirements are fulfilled by courses that also fulfill other degree requirements (e.g., major/minor or electives). Here is one way to picture how courses in the Honors Program fit into your regular graduation course of study. Note that all Honors Program hours fit into one part of your degree requirements (some of them as general electives).
For Faculty Advisors
If you are a faculty or staff member who advises any Honors students, please make yourself familiar with the program and with the college-specific program forms above. These forms can be used informally to keep track of a student's progress toward their Program Requirements. This form should be attached to the student's regular Program of Study in their file to identify them as an Honors student and help both you and the student know what courses need to be taken.
We have an Advising Information Sheet for all academic advisors.
While many aspects of the Program have become stable over the years, the Program undergoes changes in order to improve its quality and accessibility to students. It is a good idea to check the Honors web site periodically for news about changes.