Charger Choices

About Charger Choices
Over the past few years, UAH has been transitioning to a residential campus. As a result, the university is focusing its efforts toward enriching campus life. UAH's Athletic Department is an integral component of an enhanced residential environment and has shown leadership in developing enthusiasm and school spirit. UAH Athletics consists of thirteen NCAA Division II and one NCAA Division I intercollegiate athletic teams and more than 230 student athletes.
Residential campuses have higher rates of alcohol use than commuter campuses. While UAH has a commitment to alcohol reduction, there is always a need for increased prevention efforts in the areas of alcohol use, abuse, and judicial incidents related to alcohol misuse.
The Athletic Department, in partnership with the Division of Student Affairs, University Housing, and Campus Police, is committed to campus-wide efforts to reduce alcohol misuse. Funded through a grant awarded by The National Collegiate Athletic Association (NCAA), Charger Choices has been formed to implement these efforts and encourage personal choices that are legal, healthy, and safe for all of our students. Charger Choices will focus attention on UAH's first-year students by educating and developing student athletes as positive role models. Strengthening the relationship between our student athletes and the total campus community will be a positive strategy for alcohol prevention efforts and for creating a healthier campus.
Charger Choices Committee
Toni Morgan - Director of Judicial Affairs - ext 6701
Julie Woltjen - Director of Athletic Compliance - ext 7853
Captain Dianna Marshall - Campus Police Captain - ext 6596
Scott Royce - Associate Director of Student Housing - ext 2705
Jonathan Williams - Substance Abuse Prevention Counselor - ext 6446
Sponsored Events
To facilitate integration of our student athletes into a campus-wide effort to reduce alcohol abuse and misuse, Charger Choices partners with other campus entities to create comprehensive, student-driven educational projects that help students make better "CHOICES" - choices that are legal, healthy, appropriate, and safe. These include the following:
Mandatory Student Athlete Education/Training Workshop
Wellness Link
TIPS (Training for Intervention Procedures)
Alcohol-Free Social Events/RAVE Party
Student Conduct Semester Speaker/Program (Dean of Students)
SafeRide (Dean of Students)
Charger Choices Members Attend the APPLE Conference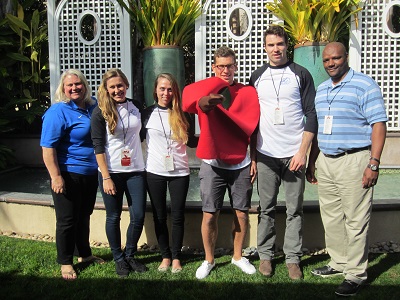 None currently scheduled. Please check back soon.