About Corporate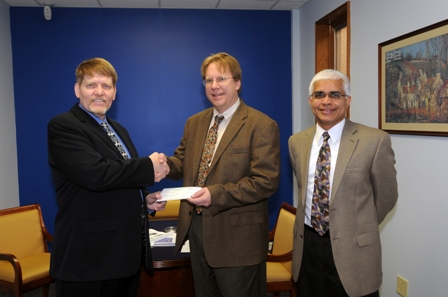 Steven Northover of Northrop Grumman Information Systems presents a check for $2,500 to
ECE Chair Dr. Robert Lindquist and UAHuntsville Engineering Dean Dr. Shankar Mahalingam.
---
Reaching out to the corporate community to create mutually beneficial partnerships is a top priority for UAHuntsville. The Office of Corporate Relations is charged with building relationships across industry sectors to offer a variety of exciting opportunities for corporate investment.
Corporate Relations at UAHuntsville will analyze institutional priorities, as well as the work that supports priorities of the Colleges of Business, Engineering, Liberal Arts, Nursing, and Science, undertaking major initiatives that grow out of specific corporate interests. Our role is to link your corporation to faculty, students, and programs that are of interest and provide direct benefit to your company. The Office of Corporate Relations can assist your corporation in developing strategic relationships across campus regarding philanthropic gifts, research, recruitment, and diversity initiatives.
By building a relationship with UAHuntsville, your company will have the opportunity to:
Invest in the nation's technology future by supporting cutting-edge research with faculty and scholarships for students who will be the next generation of talented leaders for your company
Demonstrate a commitment to hiring a diverse workforce and develop your company's talent pipeline by recruiting some of the nation's top students for co-op, intern, and full time positions
Impact academic courses and curriculum development to produce future hires that meet your company's business needs
Increase name recognition among UAHuntsville students, faculty, and staff, as well as the Huntsville community as a whole
Promote K-12 education, particularly among underrepresented populations in mathematics, science and engineering
Gain access to UAHuntsville Alumni for your company's experienced hire needs
Offices are located on campus in Shelbie King Hall
Hours are 8:15 a.m.-5 p.m., Monday-Friday
Katie Thurston
Assistant Director Corporate and Foundation Gifts
Shelbie King Hall, Room 312
Huntsville, Alabama 35899
256-824-6042
katie.thurston@uah.edu