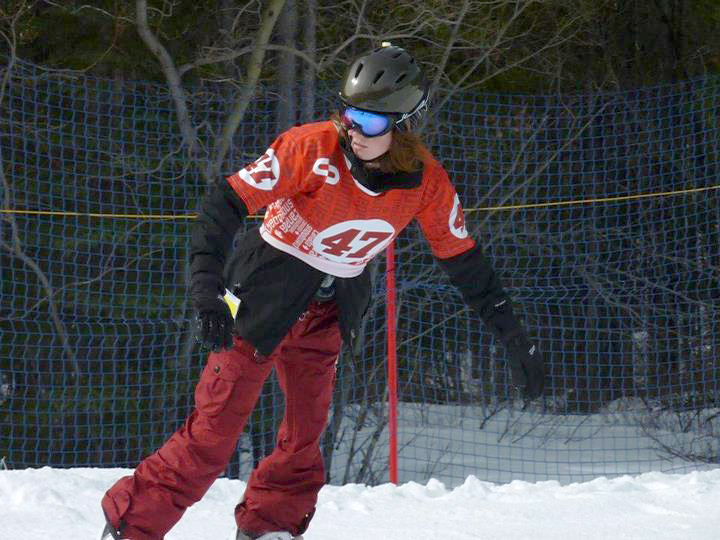 HUNTSVILLE, Ala. (Feb. 5, 2014) - Megan Harmon ('11 BS Mechanical Engineering), aka "Pistol," was nominated to the U.S. Paralympic Team to compete in the inaugural snowboard cross competition at the 2014 Paralympic Winter Games in Sochi, Russia, in March.
The University of Alabama in Huntsville (UAH) alumna said she acquired the nickname "Pistol" when she started college because of her competitive spirit. In her blog she writes, "Pistol represents something new ... now I'm Pistol because of my never give up, never surrender attitude."
In 2009, while riding her motorcycle, Harmon was hit by a car and was lucky that she lost only her left leg. Living up to her nickname, Harmon was walking unassisted with her first prosthetic leg within two weeks of the accident. Six months later, she returned to UAH and was back on the slopes snowboarding.
"Megan was a dedicated and excellent student who did not allow circumstances to dictate her goals and future. I have a feeling that what the world may perceive as an obstacle, Megan would view as an opportunity to excel at yet another type of adventure. Megan personifies the definition of determination and tenacity, and she will be successful at whatever she desires to accomplish," said Dr. Christina Carmen, a lecturer in the Mechanical Engineering Department.
Harmon's blog credits her dad, for telling her about the National Ability Center (NAC) in Park City, Utah, which teaches people with disabilities how to ski and snowboard. A year later, she was asked to join Team Utah Adaptive Snowboarding. She is one of two girls on the ParaSnow Boarding team.
When she is not snowboarding, Harmon is a quality engineer at ATK Aerospace Group, a defense and space industry company in Minneapolis, Minn.
While a student at UAH, Harmon excelled in her coursework and research endeavors. She was on the Dean's List, and was the recipient of a UAH Foundation Presidential Scholarship and Alabama Governor's Youth Leadership Award.
Her UAH research ventures include the Integrated Product Team, ASCE Concrete Canoe Team, and UAH Apollo Project. Harmon also has a prolific volunteer record including the Haiti Ability Challenge through NAC, The Utah Pride Center, motivational speaker, and a patient model, advocate, and peer support representative for Fourroux Prosthetics. Additionally, Harmon participated in a series of University of Alabama myoelectric sensor tests (to improve muscles of above-knee amputees), and participated in product testing and commercials for Fourroux Prosthetics.
In 2012, Harmon's snowboarding team won the bronze medal in the Boardercross Adapative Snowboard Division in Nakiska, Alberta Canada.